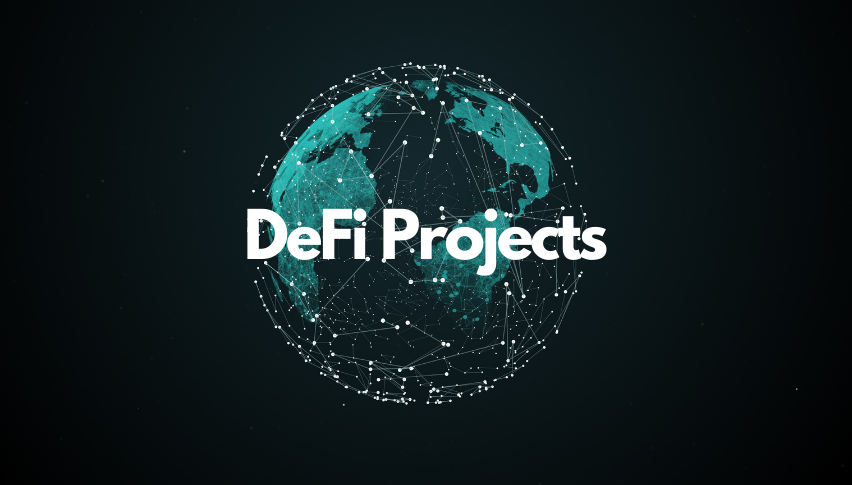 Top Five DeFi Projects That Will Soar in the Last Quarter of 2021
Posted Friday, November 26, 2021 by
Sophia Cruz
• 3 min read
Decentralized Finance (DeFi) has been upscaling since the first day of this year. DeFi projects have provided crypto-interested individuals with promising projects that render extensive profits and returns as the world gradually adopts cryptocurrencies. As for crypto enthusiasts searching for investments where they can extend their portfolios, DeFi is a highly recommended option. This article will discuss five DeFi projects that have tremendous potential to boom in the last quarter of 2021. 
PancakeSwap (CAKE)
PancakeSwap, dubbed as "The Most Popular Decentralized Platform," offers a boundless opportunity to invest in a diversified ecosystem and possess a governance token with actual usage. PancakeSwap allows investors to trade and swap BEP-20 tokens that are built on the Binance Smart Chain. CAKE and SYRUP are the native tokens of PancakeSwap. Users who will stake their Liquidity pool tokens will be rewarded with CAKE. They can also stake their CAKE tokens to earn SYRUP tokens with more utilities like governance, and which can also be used as lottery tickets.
One of the main advantages of this DeFi project is that it provides lower transaction fees than its competitors built on the Ethereum Network. It only charges 0.2% on users, which is more manageable and results in higher profit margins. PancakeSwap also has diverse staking options that provide flexibility of its tokens. Another great thing about PancakeSwap is it has greater liquidity, and massive daily users prefer that it is effortless to get in and out of CAKE.
Fantom (FTM)
Fantom was introduced as a smart-contract-based platform that serves as an alternative to Ethereum. It uses a direct acyclic graph (DAG) technology that proposes a revolutionary innovation from a standard blockchain. DAG is a ledger that is made for faster and more efficient systems than blockchains. With Fantom's goal to provide a harmonious balance of stability, security, and decentralization, its lightning-speed transaction makes it a suitable ecosystem for dApp development. Unlike other DeFi projects, Fantom does not need a governing community; all of its frameworks are bound together in its Asynchronous Byzantine Fault Tolerant PoS consensus mechanism, maintaining the leadership of the entire blockchain. This robust framework and strategy make it on the list of our top DeFi projects that will dominate 2022.
Colony Lab (CLY)
Tagged as the best DeFi project on Avalanche Network, Colony Lab boasts its futuristic, community-driven assets. This project is built and supported by the Avalanche Foundation. CLY token is the utility token of the platform. Colony Lab technically provides liquidity to most Avalanche DeFi projects; hence, Colony also uses AVAX. Colony helps attract future users to the Avalanche blockchain through its incentive strategies and exciting proposals. It also uses a decentralized autonomous organization (DAO) that broadens the liquidity pool on the Avalanche network, increasing its assets from a dedicated index. This DeFi project aims to connect DeFi and modern finance to bolster developments in the Avalanche ecosystem.
The Graph (GRT)
The Graph is an indexing protocol for checking networks like Ethereum, and it supports applications in the Defi space. GRT is the native utility currency. The Graph has a lot of utility that is what investors are looking for in every cryptocurrency. The Graph is an ecosystem that allows users to index a blockchain and acquire data. It utilizes subgraphs APIs to query blockchain, gathers data from the Ethereum network, uses that in a decentralized network, and even creates smart contracts through that technology. Since its integration with StreamingFast, it has been utilized in 25 different blockchain networks. The Graph is one of the main fundamentals of DeFi, with its subgraphs and information being widely used across other networks.  The best thing about this platform is that it combines decentralization and efficiency effortlessly. With this, GRT becomes popular and is set to receive mass adoption in the coming years.
Aave is a dApp that is created on Ethereum and is also an independent blockchain. It provides crypto-based financial solutions without the use of a centralized broker. It offers to lend and borrow cryptocurrency in its protocol with a robust algorithm for its stability. It has two tokens, AAVE and Atokens. AAVE is for utility and governance usage, while ATokens are tokens that acquire interest through users' deposits. The most popular feature of Aave is its flash loans that allow you to experience arbitrage opportunities releasing good profits for every transaction. Another assuring feature is its staking mechanism, and it serves as a security for every staked Aave token; once the market of these tokens goes bearish or gone, the protocol secures 30% of the actual funds. A lot of conservative individuals are searching for this service.  
Conclusion
These projects have contributed significantly to DeFi's growing transactions averaging a monthly volume of $39.5 million in January 2019 to $173 billion in May 2021. DeFi projects will transform the mode of payments around the globe, making usage of crypto assets broader and more straightforward. Still, it is best to be cautious and well-informed before jumping into the DeFi space as these projects provides good benefits to its users.