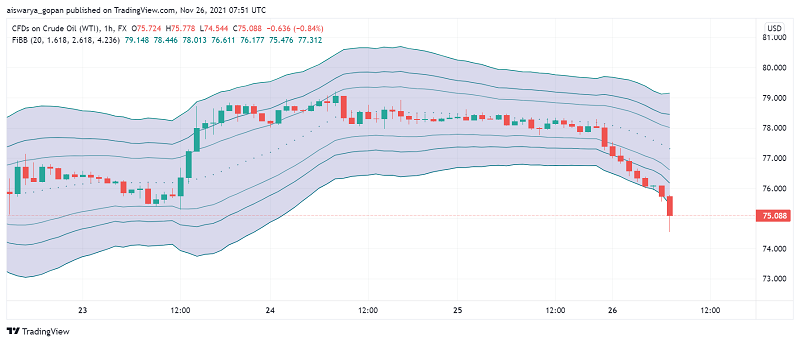 WTI Crude Oil Set to End Week in Red as SPR Release Triggers Oversupply Fears
WTI crude oil is ending this week on an extremely bearish note, losing more than 1% of its value in early trading on Friday over worries that the coordinated release of SPRs by the US and some Asian countries could drive oversupply in oil markets in Q1 2022. At the time of writing, WTI crude oil is trading at around $75.08 per barrel.
Earlier this week, the downslide in oil prices was triggered by the Biden administration confirming that it was planning to release millions of barrels of oil from its strategic reserves. The move would be in coordination with other leading energy consumers from Asia, including China, Japan and India, in a bid to bring down oil prices in markets.
According to sources at OPEC, the development could result in flooding of oil markets with additional crude supply, with forecasts suggesting a surplus by 400k bpd in December. In addition, tapping into SPRs by these nations could cause oil surplus in international markets to soar to 2.3 million bpd in January and go up to 3.7 million bod by February 2022.
The OPEC+ group is set to meet next week to discuss plans for crude production, and this news is likely to be one of the key items on their agenda. It will be interesting to see if OPEC and its allies react by adjusting their oil output in response to this move.
However, analysts anticipate the move to have a limited impact on oil supply in global markets. They expect it to help ease some of the tightness in supply after OPEC+ decided to raise output gradually, instead of flooding the markets with surplus oil supply.