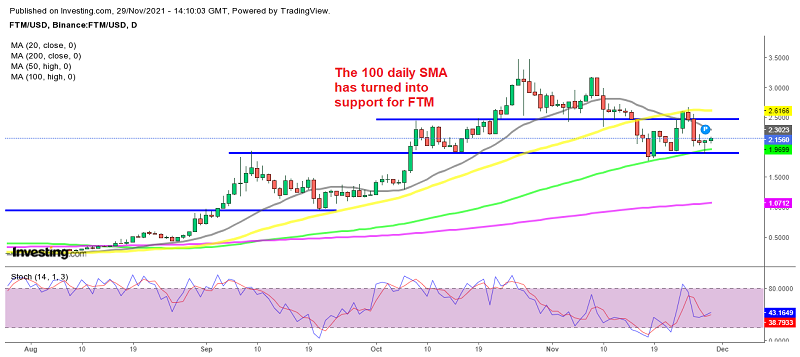 Hold Fantom Crypto (FTM) and Shiba Inu Coin Buy Positions, As They Start to Bounce Up Off Support
Fantom crypto coin and Shiba Inu have been really bullish in October, but they turned bearish before the market did this month. Fantom has been bullish since August, while Shiba Inu coin turned massively bullish in October, although they have been bearish now for bout a month. But, the retreat might have come to an end for both cryptocurrencies, as they are finding support and forming bullish reversing patterns.
Fantom Daily Chart Analysis – The 100 SMA Holds As Support
Fantom turned bullish in September when most of the crypto market was retreating lower and increased from around $0.50 to $3.50 by the end of October. Previous highs kept turning into support for FTM/USD, but this month the bearish sentiment in the crypto market pulled Fantom down with it.
The first support area around $2.50 and the 50 SMA (yellow) were broken, then came the turn for the second support at $2 to be pierced. But the 100 SMA (green) didn't let go and we saw a bounce off this moving average to the 50 SMA where sellers had another go. Although, the 100 SMA held as support and after yesterday's rejection down there and the small hammer candlestick, the chart setup point to a bullish reversal soon. Fundamentals look good after 12swap connected with Fantom, that should increase the daily transactions which stand at around 700k right now, off the 1,8 million we saw in September
Shiba Inu Daily Chart Analysis – Is the Slide Ending at Support?
The support at $0.000035 is holding for the Shiba INU coin
Shiba Inu coin was trading in a tight range and the price action was very boring for several months, until it decided to surge higher in October. A large whale wallet was spotted buying large amounts of Shiba coins and a tweet from Elon Musk sparked the rally, which continued until late October, sending SHIB/USD around 10 times higher.
After that strong surge last month, it was time for a retreat lower which took the price down to the 20 SMA (gray) on the daily chart. That moving average was providing support, but the crypto market turned bearish as well this month and it sent the Shiba Inu price lower, while the 20 SMA has turned into resistance. The 50 SMA was also broken but the previous high at around $0.000035 is turning into support, stopping the slide. SHIB/USD is trying to reverse higher now, so perhaps the bullish trend will resume soon. We are not in a trade in either cryptocurrency, but might open a buy position in Shiba Inu soon.