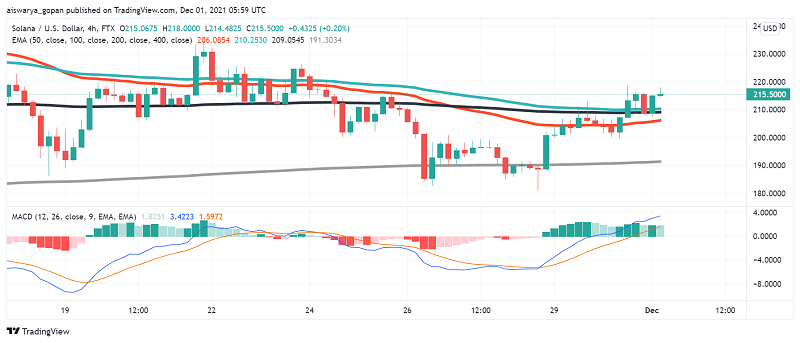 SOL Price Prediction: Grayscale Solana Trust Release Drives Uptrend
Solana is off to a cautiously bullish start early on Wednesday, powered by news of leading digital asset management firm Grayscale launching its new product offering institutional investors exposure to its native token SOL. At the time of writing, SOL/USD is trading around $215.50.
Investor Interest in Solana Remains Strong
During the previous session, the potential Ethereum killer managed to register gains above the $200 mark after the launch of the Grayscale Solana Trust with almost $10 million under management. The latest investment offering in the crypto space will allow investors a passive exposure to the native token of the ultra-high-speed blockchain network that has gone on to offer intense competition to Ethereum in the past couple of months.
According to the latest report from CoinShares, Solana continues to be among the top cryptocurrencies enjoying institutional inflows every week. Of the total $306 million poured into digital investment asset products last week, 5.9% of assets under management (AUM) went to SOL.
Investor interest in Solan and Solana-based projects remain strong, which is evident from recent news of derivatives network based on the blockchain, HXRO, raising $34 million in its recently concluded token round. The funds will allow HXRO to offer a decentralized crypto derivatives trading platform, including futures and options, on the high-speed network and is expected to launch in about one month.
Other Fundamentals Also Support SOL's Rise
Solana's adoption is also rising higher steadily among projects. One of the most exciting fundamental developments in this space is the Star Trek living Eco-NFT developed on the blockchain, going on display during Art Basel 2021. The first NFT in this collection will be the signature of the late Star Trek creator Gene Roddenberry on his first contract and will be an iconic digital collectible to look forward to at the event. The living Eco-NFT project merges science and science fiction using DNA code in the cell of life bacteria to replicate and grow, making it possible for fans to preserve and share Roddenberry's legacy in a carbon-neutral and energy-efficient manner.
Another exciting development is Solana-based EVM Neon integrating its Aleph.im, a cross blockchain computing network and decentralized indexing provider, offering access to all cross-chain DeFi data on Solana's ecosystem. Aleph.im will make it easy for users on the Solana blockchain to access accurate data related to TVL, transactions TPS, operator node stats, and other detailed information about smart contracts on Neon quickly and effectively.
SOL/USD Technical Analysis
On the H4 chart of SOL/USD, moving averages and the MACD are suggesting a strong bullish bias. However, the momentum indicator reveals some interest among sellers as well.
Solana's price is sitting above the pivot point at $204.69 but buyers can take it higher comfortably until the first resistance at $228.38. A break above this level on the back of high buying pressure can take SOL past the key $250 level, until buyers face a test at the second resistance level of $255.89.
The SOL/USD was closed at $139.824 after hitting a high of $148.260 and a low of $137.144. On Monday, SOL/USD dropped sharply and reversed
3 hours ago