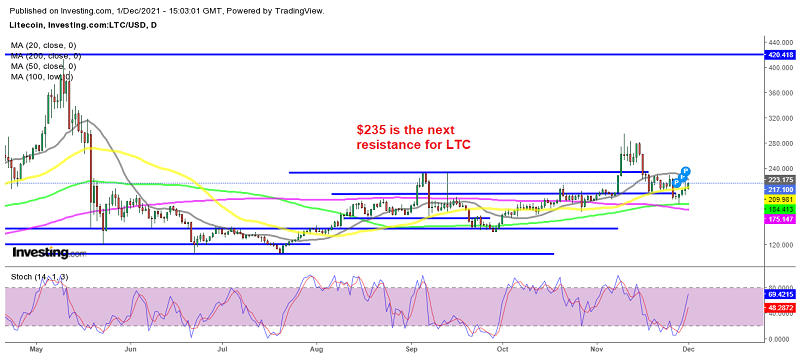 We Remain Long on Litecoin and Fantom, as LTC and FTM Reverse Higher
Cryptocurrencies had a bad month in November, as the crackdown on the crypto market continues, although cryptos are getting used to this. Digital coins went through considerable losses, with Litecoin falling below $200, while Fantom coin lost around 50% of its value when the sentiment turned bearish.
But, the bearish period might be over now, making it look similar to the price action we saw in summer and September. Both retreats were followed by a strong bullish rally in the subsequent month, so this might be the time to go long on these two cryptos, which are showing bullish signals. We are already long on both of them, so let's see how they look now.
Litecoin Daily Chart Analysis – Reversing at the 100 SMA
Litecoin turned bullish suddenly earlier this month, as it struck a number of deals, which brought LTC further into the mainstream. Visa partnered with Litecoin to introduce the Visa LTC debit card, while AMC theatres decided to accept LTC as a form of payment.
The number of active addresses with no-zero balance has increased, which correlates with bullish periods in LTC/USD. The bullish reversal of this week, from below $200, shows buying pressure in Litecoin, after it found support at the 100 daily SMA (green). Now LTC/USD has entered the bullish zone above $200 again and it is heading for this month's high at just below $300. We are long on this cryptocurrency and we're holding our long position here, targeting $300 first, and then we will decide what to do with that trade.
Fantom Daily Chart Analysis – FTM Bounces Off the Second Support
Fantom remains neutral right now, between two resistance zones 
Fantom surged during September and October, from around $0.30 to $3.50, turning the previous highs into support, as it kept marching higher. But, it reversed down this month, following the retreat in the crypto market. The first support area around $2.50 was broken, but the second support area below $2 is holding.
We saw a strong bounce earlier this month off the support zone, but FTM/USD returned back down as the crackdown in the crypto market continues. Now, the price is trying to turn bullish again, but the momentum seems weak, while some other cryptos are heading for new record highs already. Moving averages remain as obstacles to the top, but we hope that it will overcome these resistances, after the partnership with 123swap, which will make FTM coin more visible.
Cryptocurrencies were showing strong bullish pressure in the first two months of 2023, but the bullish momentum has faded
2 weeks ago