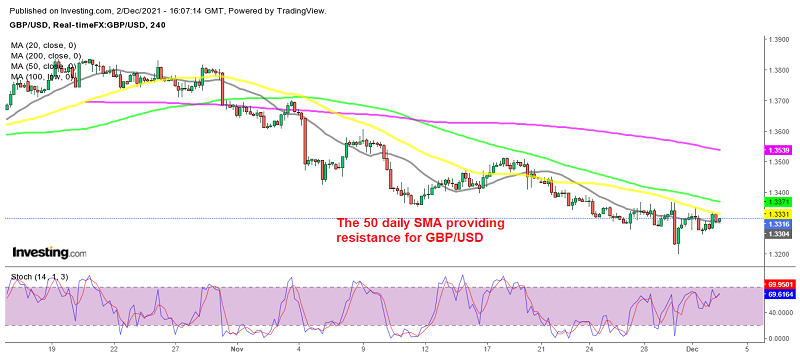 Selling GBP/USD As Jobless Claims Continue to Trend Lower in the US
The US Dollar has turned bullish since summer, as the FED decided to accept that inflation is surging. Inflation has been above 5% since June and in the last two days, FED chairman Jerome Powell has been mentioning high inflation a lot in the testimony for the financial committee.
He also said that he wants to speed up the pace of the tapering process, which is more good news for the USD. The buck made some gains after Powell's comments, but it gave them back and GBP/USD remains unchanged in the last few days. Although, the 50 SMA (yellow) has caught up with the price and is providing resistance, so we decided to take a shot and sell this pair.
US weekly initial jobless claims and continuing claims data
US initial jobs claims 222K versus 240K estimate. Prior revised to 194K from 199K (influenced by the holiday and seasonals)
4 week moving average of initial jobless claims 238.75K vs 251K. The average is the lowest since March 14, 2020.
Continuing claims 1956K vs estimate of  2000K.  This is the lowest level since March 14, 2020.  Last week continuing claims a 2049K revised to 2063K
4 week moving average of continuing claims comes in at 2084.25K vs 2117K last week. This is the lowest average since March 21, 2020.
The largest increases in initial claims for the week ending November 20 were in Virginia (+12,703), New Jersey (+2,061), Michigan (+1,926), Oklahoma (+1,490), and Minnesota (+1,465),
The largest decreases were in California (-7,233), Kentucky (-3,910), District of Columbia (-1,679), Missouri (-1,519), and Massachusetts (-1,410).
Tomorrow the US Bureau of Labor Statistics (BLS). Will release their employment data for the month of November. The expectations are for:
nonfarm payroll 550K versus 531K last month
unemployment rate 4.5% versus 4.6% last month
average hourly earnings +0.4% versus 0.4% last month. Year on year 5.0% versus 4.9% last month
average weekly hours expected to remain steady at 34.7 hours
GBP/USD Live Chart