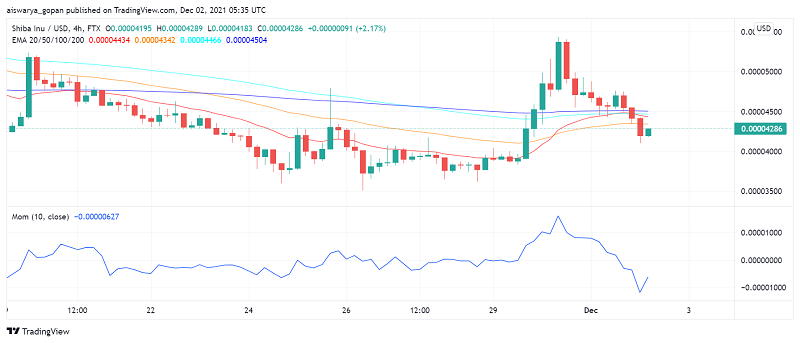 SHIB Price Prediction: Buying Activity by Whales Supports Shiba Inu Price
Shiba Inu (SHIB) may have slipped in rankings to become the 13th largest crypto by market cap but continues to rally powered by high levels of trading activity, especially among whales or large holders of the token. At the time of writing, SHIB/USD is trading around $0.000042.
During the previous session, the second most popular memecoin and potential Dogekiller soared by as much as 33% as whales went on a buying spree in the SHIB token. Possibly celebrating the news of Shiba Inu being listed on leading crypto exchange Kraken earlier this week and rising adoption among businesses as a payment option, large holders of the token seem highly optimistic about its future prospects, buying at dips in its price.
On Tuesday, an Ethereum whale purchased SHIB worth over $1.1 million while other whales had bought $8 million worth of tokens on November 17, followed by an even bigger purchase by another large holder, this time for $36 million on November 23. The increased buying interest among large holders is contributing to the continued strength in the meme token's value lately.
More Businesses Accepting Payments in Shiba Inu
Meanwhile, in terms of adoption, more and more businesses are opening up to accepting payments in Shiba Inu. Leading online retailer Newegg had confirmed its interest in doing so earlier this week and has since gone on to announce that it will start accepting SHIB payments starting from early December. The company has splurged on a large billboard ad in the US to let users know that they can soon start shopping in the store with SHIB.
Canadian online healthcare company Ask The Doctor announced that it had added almost $1.5 million worth of Shiba Inu to its balance sheet recently. The company shared this update via Twitter, adding that it was gearing up to start accepting payments in SHIB with their healthcare partners.
Automated Grading Systems (AGS) will also soon allow their customers to use SHIB as payment for orders above $200. The company will let its users grade any Pokémon card and utilize their RoboGrading services, powered by advanced technology and AI, for card grading.
SHIB/USD Technical Analysis
According to a popular crypto analyst who operates under the pseudonym Altcoin Sherpa, Shiba Inu could be ready for an explosive move. However, it could take some time to build up as he anticipates a possible short-term bottom and consolidation around the $0.000047 level.
On the 4-hour price chart of SHIB/USD, moving averages and the MACD are exhibiting a bearish bias. However, the momentum indicator points to some selling interest in the market as well.
Shiba Inu's price is holding above the pivot point at $0.0000407 and  but is under the immediate resistance at $0.0000463, but only barely. Pay close attention to this level as increased buying from here can see SHIB cross the resistance level soon and test $0.000050.
Cryptocurrencies were showing strong bullish pressure in the first two months of 2023, but the bullish momentum has faded
7 months ago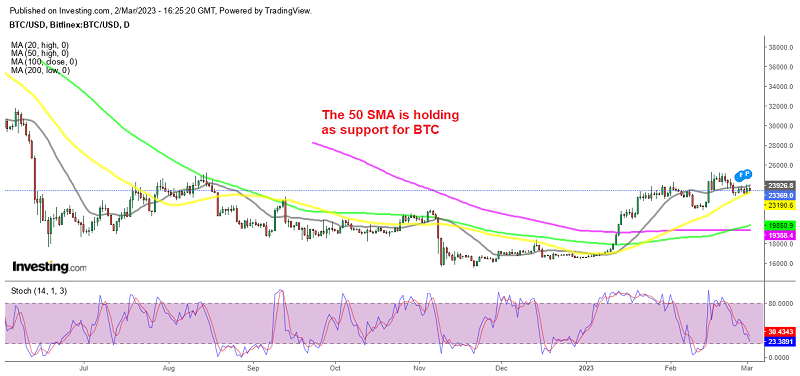 7 months ago