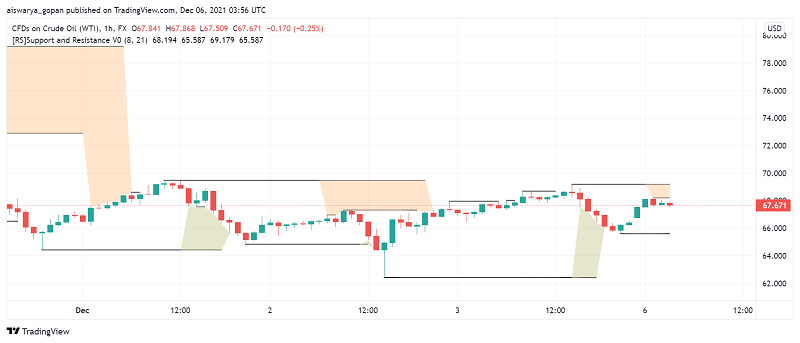 WTI Crude Oil Gains as Saudi Hikes Official Selling Prices to Asia, US
WTI crude oil prices are off to a strong start at the beginning of a fresh trading week after leading oil producer and de factor head of OPEC Saudi Arabia increased prices for crude sold to Asia and the US. At the time of writing, WTI crude oil is trading at around $67.67 per barrel.
Saudi Arabia announced its decision to raise the official selling prices across all crude grades sold to key markets such as Asia and the US by as much as 80 cents since the previous month. Demanding higher prices for exporting the commodity has offered some support to oil in international markets for now.
Saudi Arabia's decision to hike official selling prices comes even as OPEC and its allies took a call to continue adding 400k bpd of oil per month to gradually erase the tight supply in global markets. At the start of the COVID-19 pandemic when most of the world went into lockdown mode, the leading oil producing nations had cut oil production sharply in response to the sharp decline in demand, but had decided to build crude production gradually over the past few months.
Crude oil is also trading bullish after US-Iran talks on the nuclear pact came to an abrupt halt last week. This has dented the likelihood of Iran exporting oil in the near future, keeping the supply side of the commodity tight and supporting its price.
However, gains in oil remain limited after the IMF cautioned that the latest Omicron variant could cause a decline in global economic recovery. According to IMF Managing Director Kristalina Georgieva, "A new variant that may spread very rapidly can dent confidence, and in that sense, we are likely to see some downgrades of our October projections for global growth."