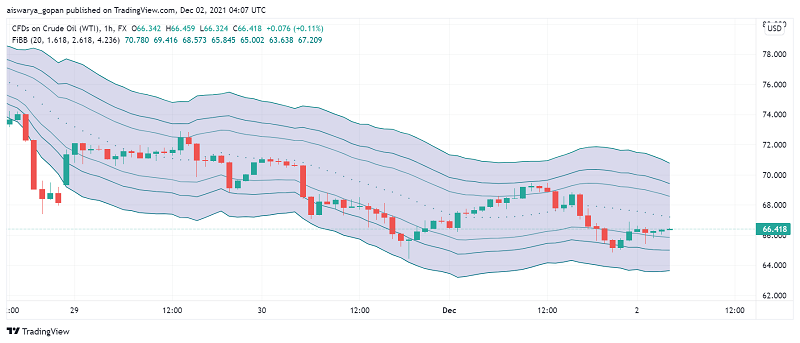 WTI Crude Oil Rises as Traders Expect OPEC+ to Pause Additional Supply
It's a positive start to the day for WTI crude oil, as it climbs higher on expectations that OPEC and its allies could pause any planned increases in oil supply to international markets amid the latest fears of the spread of the Omicron variant worldwide. At the time of writing, WTI crude oil is trading at around $66.41 per barrel.
Analysts expect OPEC+ to hold back on increasing crude production during the month of January, a move that could offset some decrease in oil demand as countries tighten restrictions and cut back on international travel over Omicron fears. In addition, with European countries imposing lockdowns and curbs, OPEC+ deciding to pause adding more oil to markets next month could prevent any weakness in oil prices.
The group of leading oil producing nations and their allies meet later today to discuss their strategy and to possibly adjust crude production amid reigning uncertainties caused by the COVID-19 pandemic. OPEC and its allies had been gradually increasing supply by 400k bpd every month since August to offset the deep supply cuts implemented last year when the pandemic first spread around the world and forced many countries into lockdown mode.
The latest meeting will focus on concerns about Omicron – the latest and most contagious variant of COVID-19 which is said to be vaccine-resistant. Several countries have already implemented restrictions on international travel in response to the news, a development that can drive a steep reduction in oil demand.
Meanwhile, crude oil prices could also face some volatility on the US's plans to tap into its SPRs to reduce some of the tightness in supply. Gains in the commodity remain limited by a smaller than expected drawdown in US crude inventories, as revealed by the EIA report which released in the previous session.