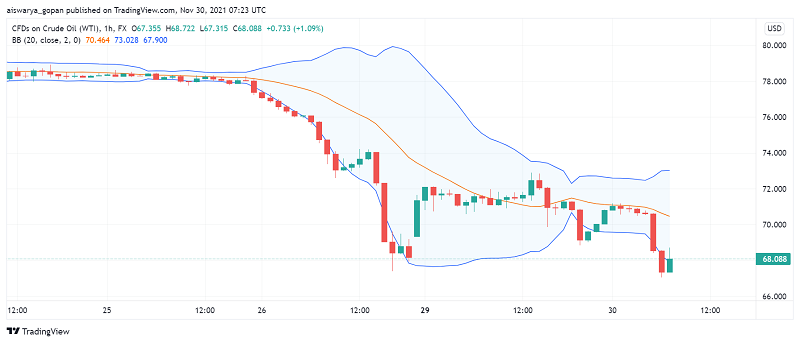 WTI Crude Oil Gains: Markets Expect OPEC+ to Act Against Possible Fall in Demand
WTI crude oil prices continue to bounce back from last week's slump in early trading on Tuesday as traders increasingly expect OPEC and its allies to hold back from raising crude production amid the potential impact of the latest Omicron variant of COVID-19 worldwide. At the time of writing, WTI crude oil is trading at around $68.07 per barrel.
During the previous session, WTI oil prices strengthened by 2.6% after posting a 12% decline last Friday over worries that the latest variant of coronavirus could force countries to bring back lockdowns and restrictions. Such curbs could not only hurt overall economic activity but drive a severe drop in energy demand, keeping oil prices low as a result.
The WHO has already issued strict warnings against the latest variant of the virus, said to be resistant to existing vaccines and far more contagious. Many countries have announced restrictions on international travel and the effect of this news has also driven a risk-off mood in global markets, further depressing crude oil prices.
Later this week, OPEC+ is scheduled to have their monthly meetings in which the leading oil producers could consider the impact of the Omicron variant on their decision to change crude production quotas. Till last week, traders considered the news of the US and some other leading energy consumers planning to release SPRs as the main point of focus, but the agenda has since shifted to worries of the impact of COVID-19 globally once again.
Analysts anticipate that OPEC+ could cut their crude output in response to the restrictions in Europe and several other parts of the world, which could offer some support and stem the decline in crude oil. This sentiment is driving us the prices of the commodity in markets for now, although gains are limited over concerns that Iran could soon resume exports of oil as the country resumes talks on signing the nuclear pact with Western nations.