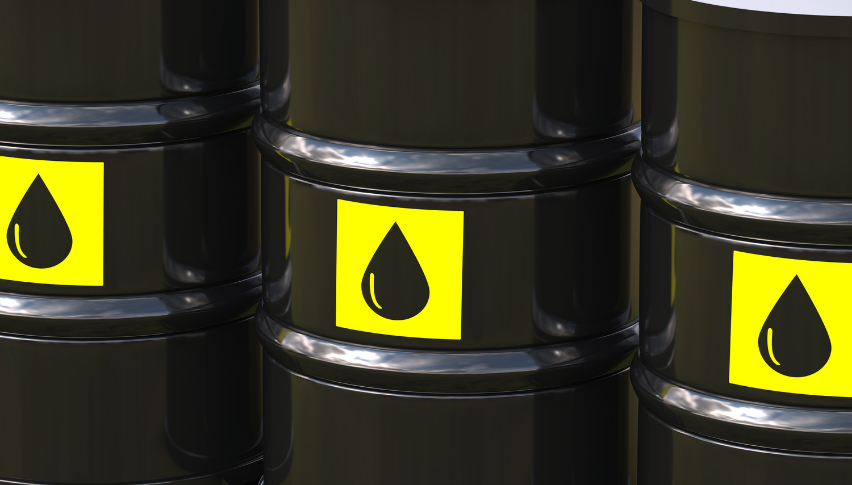 WTI Crude Oil Reverses Lower – Has it Turned Bearish Now?
Crude oil was on a bullish trend for more than a year, until early last month. US WTI crude increased from $-37 to $85, but it seems like the trend might have changed now. Last month we saw a bearish reversal and oil fell by more than $20, to $62.50. It looked like a bearish reversal, but this month we have been seeing a reversal higher. But I wasn't sure whether it was a bullish reversal or just a retrace higher before the decline resumed again.
For a trend to be called bearish, the price should make lower highs, and today it seems like crude oil has resumed the decline. WTI crude oil futures started the new trading week sharply down during mid-morning Asian trading, as the bearish pressure continued to build, with numbers of COVID-19 cases around the world still climbing and fresh restrictions/lockdowns kicking in.
WTI Oil Daily Chart – The 100 SMA has Turned Into Resistance

Crude oil opening lower today, with a bearish gap
The 100 SMA (green) has turned into resistance in the last two weeks, preventing crude oil from moving higher, and now, after the bearish gap, the price is looking increasingly bearish. The recent high was lower than the previous one, so buyers are in charge again.
The bearish momentum comes as coronavirus restrictions return again. A fresh wave of bearish headlines greeted investors over the weekend, in another blow to the oil demand. The Netherlands entered into a strict lockdown yesterday, with all non-essential services ordered to close until Jan 14. Denmark and Ireland also imposed new restrictions over the weekend, while other European countries are considering additional restrictions.
US WTI Oil Trading Between Two MAs now
The 20 weekly SMA has turned into resistance 
On the weekly chart, crude oil was being supported by moving averages, particularly the 20 SMA (gray), during this uptrend, indicating strong buying pressure. But the 20 SMA was broken last month, and the 50 SMA (yellow) turned into support. We saw a small bounce earlier this week, but the bounce didn't last, and now the price has turned down again. If the 50 SMA gets broken, the next support will be at the 200 SMA (purple) above $50.