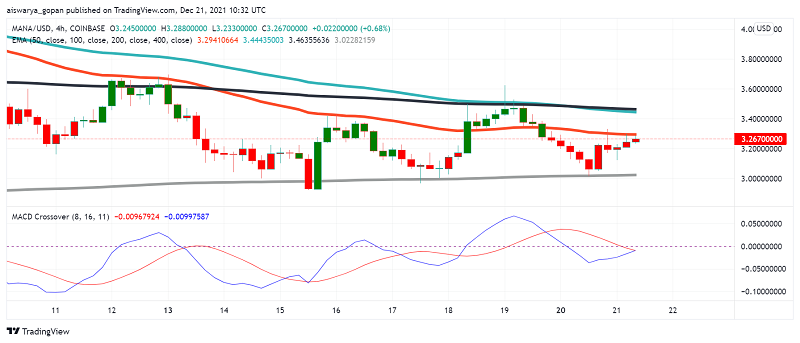 MANA Price Prediction: Decentraland to Announce Details on Partnership With Stephen Curry Today
Decentraland (MANA) continues to experience bearish price action as investors stay away from the crypto market for one more week, dimming the appeal of the metaverse related digital asset for now. However, fundamentals suggest that it could be a good time for investors to buy the dip. Let's take a look at the reasons for this.
At the time of writing, MANA/USD is trading around $3.26, up by over 4% in the past 24 hours. One of the reasons why Decentraland remains stuck in bear territory even as several altcoins have posted gains over the past week is the lack of investor confidence in its potential – it is a far riskier crypto asset to invest in, especially in comparison with those that have use cases in DeFi and enterprise applications.
Decentraland to Unveil Partnership With Under Armour, Stephen Curry
However, Decentraland could find some support from news of a recent partnership with leading basketball player Stephen Curry. The announcement was made via the meta coin's official Twitter handle last week, noting that the release of more information is scheduled for today. The partnership with Under Armour, Under Armour Basketball and Curry could spur some activity in its metaverse and support the MANA token in the near term.
Last week, Decentraland successfully launched a partnership with NFT BAZL – the world's first physical and digital NFT marketplace, which experienced resounding success during Miami Art Week recently, streaming its sale of digital art pieces at SLS Hotels in Miami over Decentraland. Going forward, the partnership will see NFT BAZL set up a permanent virtual art gallery for premium NFTs in the metaverse, within Decentraland's ecosystem.
Will The Metaverse Take Off?
The latest big company that has established a presence is Mediahub, a division of Interpublic, that has set an office on Decentraland. Designed as a global meeting place with creative marketing inspiration, it includes a virtual art gallery which will feature emerging artists and even host job fairs for professionals looking to work in the media industry.
Late on Sunday, popular crypto influencer Elon Musk tweeted that he considered the metaverse as a marketing buzzword. He played down the hype of Web3 even as several experts believe the metaverse to be the next big digital revolution.
MANA/USD Technical Analysis
Technical analysis of the H4 price chart of MANA/USD reveals a mixed picture, with the smaller moving averages and the momentum indicator suggesting a bullish interest. On the other hand, the 50 EMA, 100 EMA, 200 EMA along with the MACD point to some interest among sellers.
Decentraland is trading under the pivot point at $3.29 but a comfortable distance from the immediate support at $2.88. Let's keep a close watch on the price action as we may see buyers test the pivot point of MANA in the near term.
Cryptocurrencies were showing strong bullish pressure in the first two months of 2023, but the bullish momentum has faded
2 weeks ago