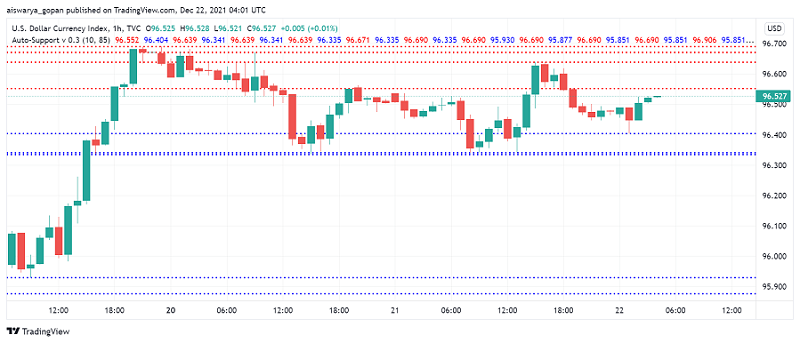 US Dollar Driven Lower as Investors Get Mixed Signals About Omicron Impact
High levels of volatility in the global forex market are exerting downward pressure on the US dollar on Wednesday, as investors remain undecided on whether to enter new positions amid uncertainties of the potential economic impact of the Omicron variant worldwide. At the time of writing, the US dollar index DXY is trading at around 96.52.
This is the third consecutive session for the greenback to start the day on the backfoot even as traders turn their attention away from its safety and towards trading riskier currencies and instruments in global financial markets. The previous session saw NZD/USD close the day with 0.8% gains while GBP/USD strengthened by 0.46%.
Analysts fail to see a clear driver behind the current risk-on mood even as health experts offer conflicting insights on the severity of the latest variant of COVID-19. The confusion is evident from the US dollar registering sharp gains late last week while equities saw sharp sell-offs at the beginning of the week, only to see the situation turn around during the previous session.
Even as several parts of the world report a sharp spike in fresh infections from the Omicron variant, the risk appetite in markets could remain supported after the US FDA gets set to authorize pills for COVID-19 treatment from Pfizer and Merck. However, optimism remains limited as more countries are considering announcing restrictions and curbs around the holiday season towards the end of the year.
Central banks have failed to drive much volatility as was initially expected during their last policy meetings of the year during the previous week. While the BOE took markets by surprising by becoming the first leading central bank to hike interest rates, investors have to wait till next year for the Fed's first rate hike. Meanwhile, the ECB remains resolutely dovish, downplaying any hopes for rate hikes in 2022.