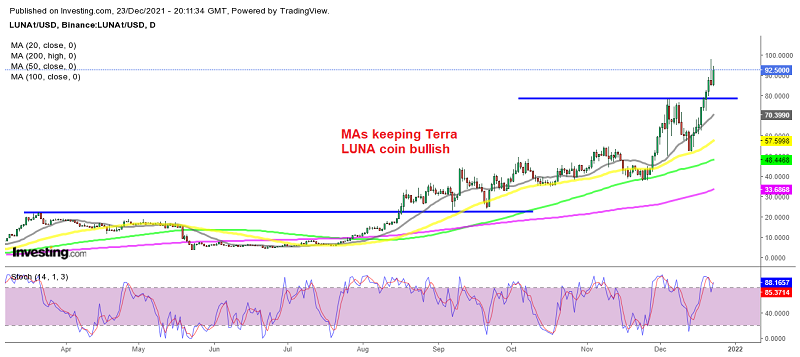 Terra LUNA Heads for $100, Cardano ADA Showing Some Bullish Interest At Last
Terra LUNA coin and Cardano have been in opposite places in recent months, with ADA coin being quite bearish since September, while LUNA coin has been extremely bullish since August. The crypto market has been in a retreat mode for nearly two months now, but Terra LUNA hasn't minded much as it keeps making higher highs. The sentiment in the broader market has improved this week, which is helping these two cryptos, so let's see where they stand now.
Terra Daily Chart Analysis – LUNA Heading for $100, Right Back After the First Failure
After consolidating in June and July, Terra LUNA turned bullish in August and it hasn't stopped since then. May's highs at around $22 turned into support in September and this crypto coin hasn't fallen below that level. In fact, it keeps making higher lows, as well as higher highs, as buyers remain totally in charge. There has been the occasional pullback, but moving averages have done a great job as support, holding the price and pushing LUNA/USD higher.
Yesterday we saw this cryptocurrency head for $100, but it was rejected just below that level on the first attempt. Although, it is not waiting too long and today LUNA coin has turned bullish again. Terra is the second biggest DeFi network, and LUNA coin is used to keep the stability of stablecoins which keeps it in demand, so it seems like buyers will push the price above that watermark level for the first time, opening the door for $200.
Cardano Daily Chart Analysis – ADA Facing the First Test at $100
Cardano has moved above the 20 SMA now
ADA coin has been bearish since September as we mentioned, missing the bullish rally in the crypto market during October and early November. Cardano is a promising blockchain network, but it has failed to generate much interest for its native token ADA in recent months, making it look like something is wrong with Cardano.
ADA/USD fell from a high of $4.10 early in November to $1.20 this month, despite its founder Charles Hokinson trying to bring some life into it. Although, ADA coin is expected to rally after dApps are launched on the Cardano ecosystem. Hoskinson mentioned this week in his blog post that fundamental developments are taking place within Cardano's ecosystem at a slow and steady pace. ADA/USD has reversed in the last two days, although it seems to be coming from the improved sentiment in the crypto market. Anyway, ADA coin is facing the previous resistance at $1.50 now, so we will see if buyers can keep the pressure and push the price above this level, turning Cardano bullish.