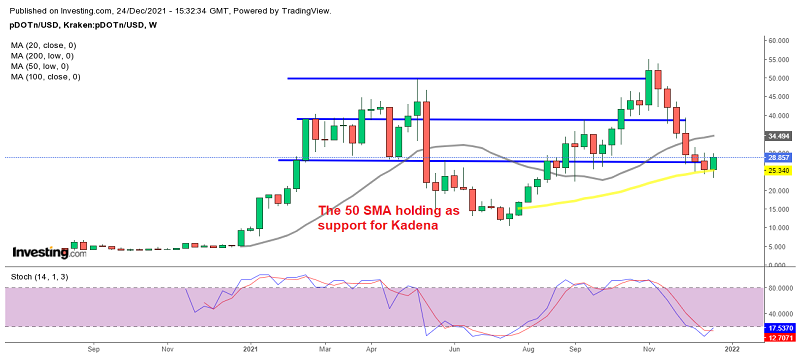 Right Time to Buy Polkadot (DOT) and Kadena (KDA) Cryptos?
Polkadot suffered some severe losses during this bearish period in the crypto market which has been going on for nearly two months now, as it fell from the all-time high of $55 to $23 last week. Kadena coin was hit even harder, as it fell from $28.50 to $6 in a flash crash, although the real support comes at around $8.50. But, the decline has stopped and now it seems like they want to reverse higher, so let's see if we can start buying these two cryptos.
Polkadot Weekly Chart Analysis – DOT Starting to Bounce Off the 50 SMA?
Polkadot had an impressive rally from August until early November and it didn't mind the retreat in September much. During that period, the price increased from $10 to $around $55, but the bearish momentum in the crypto market as a result of the global crackdown sent DOT/USD to $23.50 last week. The 50 SMA (yellow) was pierced on the weekly chart, but it wasn't broken and the price closed above it. This week we are seeing a bullish reversal, so this looks like a good opportunity to buy Polkadot coins.
Polkadot has started the blockchain's path into becoming an interoperable ecosystem after launching the first five parachains. The slot auctions started early last month and the first five auction winners were Acala, Moonbeam, Parallel Finance, Astar, and Clover, with projects mainly focusing on decentralized finance (DeFi), cross-chain interoperability, etc. This should keep the pressure to the upside for DOT coin, but the broader market sentiment has been keeping it down, so as the sentiment improves, Polkadot should resume the bullish trend.
Kadena Daily Chart Analysis – Resistance Turns Into Support
Kadena coin now heading for the 50 daily SMA
KDA/USD has been finding support at the October high at around $8.50. As it stands now, the bullish trend is starting to resume again. Kadena has announced changes to its protocol, which will give users and developers the ability to mint and buy non-fungible tokens (NFTs).
Another feature to come soon for Kadena will be staking, which is a form of smart contract that allows investors to earn interest on their KDA coins. We haven't bought Kadena, but would have liked to enter at around $8.50, if the 100 SMA (green) caught up. But it didn't and the reversal started earlier. Now the price is trading around $12.50, so we are seeing if Kadena coin can push above the 50 SMA (yellow) or if it will be rejected and come back to $8.50.