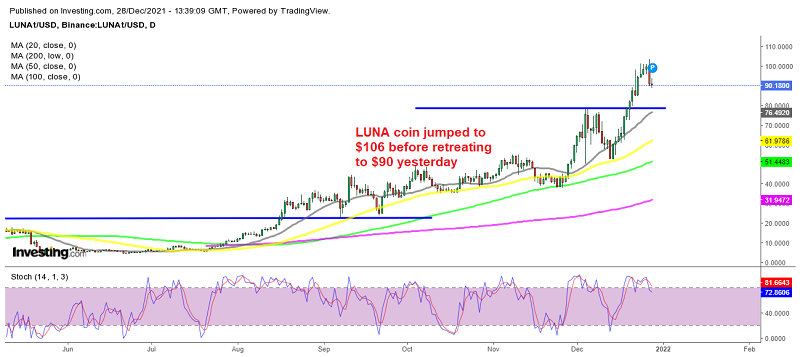 Terra LUNA, Avalanche (AVAX) Crypto Still the Most Bullish Coins
Terra LUNA and Avalanche coin have been among the strongest cryptocurrencies in recent months. The crypto market has been on a bearish period during the last two months, although the decline has come to an end. LUNA and AVAX coins weren't too affected by the pullback in the market and they have already resumed the uptrend in the last two weeks. Where are they headed next?
Terra Daily Chart Analysis – LUNA Breaks $100 As TVL Hits $21 Billion
Terra LUNA is a very promising blockchain, especially in the DeFi (decentralized finance) space, as it has accumulated around $21 billion in total valuer locked (TVL) and the amount is increasing fast. The native LUNA token has seen excellent growth on the back of strong demand for Terra's ecosystem among DeFi projects even as its stablecoin Terra USD (UST) sees higher demand.
As a result, LUNA/USD has been surging, even as the market remained bearish in the last two months. We saw a retreat to $50 early this month, but it ended right at the 50 SMA (yellow) on the daily chart. The price bounced off that moving average and pushed above $100, reaching $106, so those who bought this coin at the 50 SMA, should be around 100% in profit by now. The price retreated yesterday, but this could be a good opportunity to buy LUNA coin at the previous high around $80, where the 20 daily SMA (gray) also stands, so we are following the price action to see if LUNA will retreat down there.
Avalanche Daily Chart Analysis – AVAX Heading for the Highs After the Bounce
The support below $80 held for Avalanche 
Avalanche has made an impressive rally since August, increasing from $10 to $146 in November. The crypto market was on a bearish trend last month, but AVAX coin kept increasing after announcing that it was adding USD Coin (USDC) to its network. BitGo added Avalanche support, which means that its clients such as exchanges Bitstamp and Bitbuy, can now offer this crypto coin to their users.
AVAX/USD did retreat during lower, but the retreat ended at the 100 daily SMA (green) which stood just below $80. That zone was the high back in September, so that area turned into support and now Avalanche is heading for the highs, after making gains for the last two weeks.