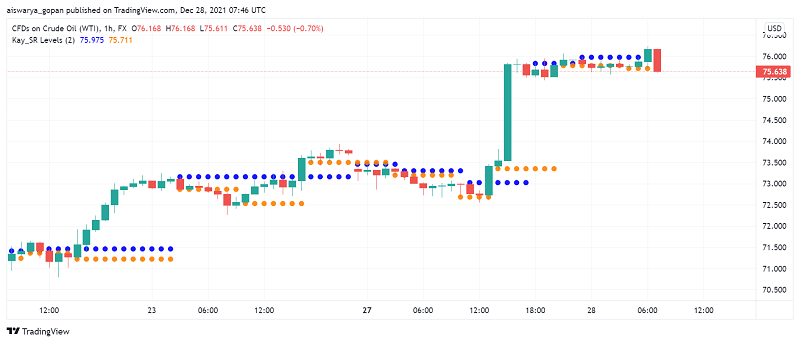 WTI Crude Oil Gains as Omicron Fails to Dent Global Oil Demand
Early on Tuesday, WTI crude oil is trading close to the highest levels seen since one month over receding fears about the Omicron variant hurting global oil demand and the economic outlook. At the time of writing, WTI crude oil is trading at around $75.63 per barrel.
So far this year, oil prices have strengthened by as much as 50% as fears about the pandemic ease and OPEC+ countries restore oil production at a gradual pace. Traders of the commodity now await the upcoming meeting between OPEC and its allies scheduled for next week when the leading oil producing nations will take a call on whether to boost crude production by an additional 400k bpd in February.
During the last meeting, the countries had gone ahead with increasing oil production for the month of January despite the news of the Omicron variant. With most countries putting off plans to impose fresh restrictions, it looks like the decision was a good one as oil demand continues to remain strong worldwide despite the latest outbreak of infections.
The UK has decided against imposing any more curbs before the end of the year despite registering a steady uptick in Omicron infections. According to health minister Sajid Javid, the government believes that the healthcare workers are able to handle the high caseload for now, but if this situation changes, the government may look at changing its plans.
Gains in crude oil, however, remain limited as the US sees cancellation of over 1,300 flights at the beginning of this week over Omicron fears. In addition to flights, several cruise ships have also reduced the scope of their operations due to a reduction in availability of crew, weakening oil demand across the country.