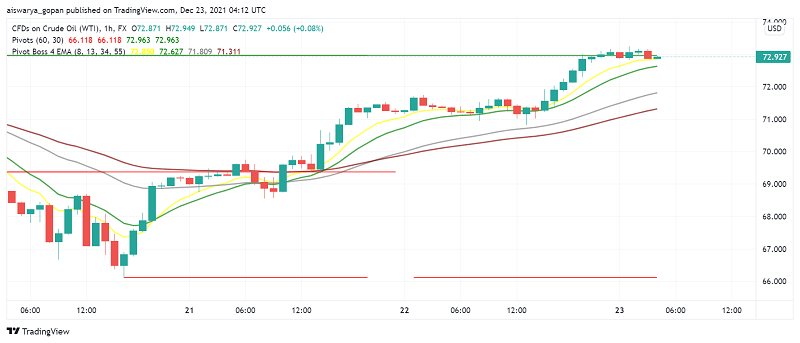 WTI Crude Oil Gains on Inventory Drawdown, Weakness in US Dollar
WTI crude oil prices are on the rise on Thursday, supported by a weakness in the US dollar and an improvement in investor sentiment as fears about the economic impact of the Omicron variant ease lower. At the time of writing, WTI crude oil is trading at around $72.92 per barrel.
The commodity has reversed its losses from the beginning of December when news about the Omicron variant first broke and several European countries announced restrictions and curbs. Although curbs still remain in place and are expected to increase in scope and number in the near term, several studies have reassured investors that the level of severity of the latest variant of COVID-19 may be lower than the previous Delta variant.
This sent safe haven instruments like the US dollar lower, making crude oil more affordable for holders of other currencies to purchase. In addition, an uptick in risk appetite also drove up the demand for the commodity, helping support the bullish mood into the third consecutive session.
WTI oil is also climbing higher on the back of the API and EIA reporting drawdowns in US crude inventories over the past week. According to the EIA report which released in the previous session, crude stockpiles across the world's largest energy consumer were down by 4.72 million barrels. Economists had forecast a smaller decline by 2.7 million barrels instead.
Crude oil prices also remain supported by possible build-up of geopolitical tensions between Russia and the EU. This has caused the certification of the Nord Stream 2 natural gas pipeline from Russia to Germany to be delayed to H1 2022 even as traders worry that tensions could escalate over worries that Russia could invade Ukraine.