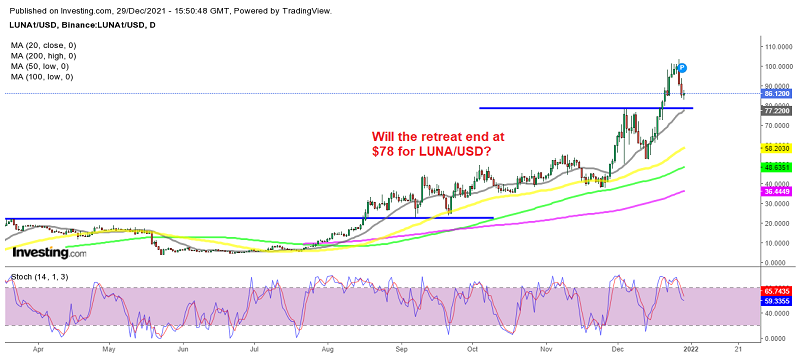 Terra LUNA Retreating Toward Support, Kadena Crypto (KDA) Can't Hold Gains Above Resistance
Posted Wednesday, December 29, 2021 by
Skerdian Meta
• 2 min read
The situation in the crypto market seems uncertain; the bearish period has ended, but the buyers can't exactly resume full control yet. We saw a climb last week which started to look like the bullish reversal everyone was waiting for, but in the last two days, we have seen a retreat lower. Terra LUNA and Kadena coin have also retreated in the last two days and we are looking where to buy them, since they have been showing buying pressure.
Terra LUNA Daily Chart – Looking to Buy at $78
LUNA coin has been one of the most bullish cryptos in recent months, making new highs even during the bearish times in the market. The previous high at $78 came early this month when the crypto market was retreating. Now, as the price retreats in LUNA/USD, this cryptocurrency is heading for that level again, which should turn into support. The 20 daily SMA also stands there, which should add more strength to the support.
Fundamentals look solid for Terra LUNA, so we don't expect this coin to retreat too deep and the $78 level seems like the right zone for the reversal to begin. Terra has accumulated $21 billion in total value locked (TVL) and the amount is increasing further. Terra's stablecoin UST has become the largest decentralized stablecoin with a market cap of $10 billion. This is keeping LUNA in demand, so the losses will be limited.
Kadena Daily Chart – KDA Retreating Below the Resistance
Kadena coin turned massively bullish in late October and early November, surging from around $2 to $28.50. After that surge the sentiment in the market turned quite bearish and KDA/USD lost around 2/3rd of its value, as the price fell to $9, where it has formed a support zone. We saw a flash crash earlier this month which took the price down to $6, but the decline and the following reversal happened too fast.
KDA turning bearish this week
Kadena doubled in price as it increased to $18.20 on Monday, pushing above the previous support at $16. But, this week turned bearish for cryptos and KDA reversed down, so it couldn't hold the gains above the resistance. If the retreat continues, then the support zone around $9 should be a good place to look to buy Kadena. Kadena made changes that will give both users and developers the ability to mint and buy non-fungible tokens (NFTs).
Besides that Kadena will also allow staking, which is a form of a smart contract that allows investors to earn interest on their crypto coins while they hold them. These protocol changes will also allow deploying other types of decentralized finance (DeFi) and decentralized applications (DApps). So, the losses should be limited for Kadena as well, which means that the $9 level is a reasonable area for the price to reverse higher.