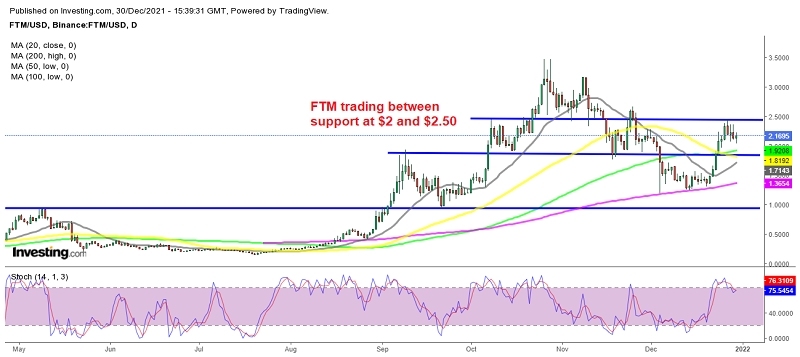 Fantom Crypto (FTM), Binance Coin (BNB) Indicating Desire to Turn Bullish
Cryptocurrencies have been bearish during the last two months, as the global crackdown continues. We saw an attempt to turn bullish last week, but this week the price has reversed down from most of the market. Fantom and Binance coins have also retreated this week, but their retreat in the last two months overall is much smaller than many other cryptocurrencies, which have lost more than half the value. So, they are showing signs that they want to turn bullish soon.
Fantom Daily Chart – Sellers Fail to Push FTM to Support
Fantom was showing excellent demand from August until the end of October, which sent it surging from around $0.20 to $$3.46. But, the retreat in the crypto market weighed heavily on this coin, sending it to $1.20 during the flash crash early this month. The 200 SMA (purple) turned into support for this cryptocurrency, holding on three attempts and eventually the price turned bullish last week as the sentiment in the market improved.
But while most cryptos only made minimal gains, FTM/USD increased from $1.20 to $2.40, which means a 100% gain. This week we are seeing another retreat in the market, but the pullback in FTM has been minimal and sellers can't even push the price to the support zone below $2. This is another bullish sign, apart from the fact that the total value locked (TVL) in fantom is reaching $6 billion. So, buyers should return soon and Fantom will head for the all-time highs again.
Binance Daily Chart – The Support Zone at $500 Holds for BNB
Binance is still in the bullish zone 
Binance coin hasn't shown such strength as Fantom has in the last several months, although it doubled in size during October, increasing to $670. In the last two months, we have seen this crypto retreat lower, but it has formed a support level around $500, which has been holding for more than a month. So, it seems like BNB is waiting for the sentiment to reverse in the crypto market and then resume the uptrend again.
Even if Binance doesn't turn bullish before the end of the year, it has already gained 1,300% this year already. The decision by Turkish authorities to fine Binance by 8 million Liras (equivalent to $750,000) earlier this month, but that hasn't affected the price much. So, early next year should be bullish for Binance.
Cryptocurrencies were showing strong bullish pressure in the first two months of 2023, but the bullish momentum has faded
7 months ago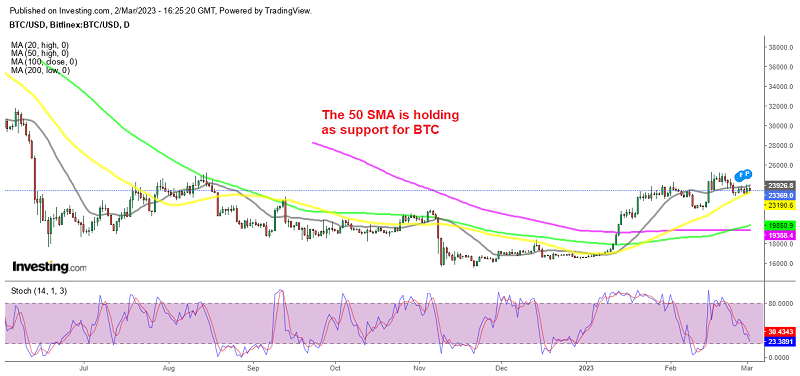 7 months ago