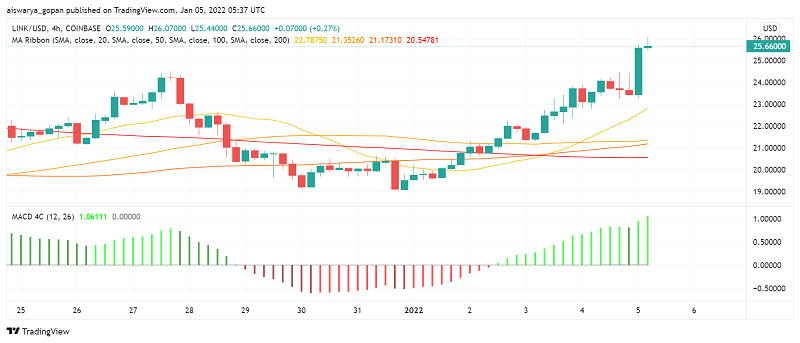 Why It's Worth Watching Chainlink (LINK) in 2022
Chainlink (LINK) is among the few altcoins in the top 20 crypto list trading in the green early on Wednesday, finding some buyers in a sluggish market on account of its promising technology and upcoming developments that can bolster its adoption in 2022. At the time of writing, LINK/USD is trading at around $25.66, up by nearly 25% in the past week.
Investors appear to be bullish about Chainlink's growth potential into this year as a preferred decentralized oracle that can power dApps across various categories, providing them access to accurate and tamper-proof real world data on the blockchain. One of the developments that has investors excited about the 17th largest cryptocurrency by market cap is its 2022 kickoff presentation which was shared on the first day of this year.
Chainlink's Co-founder Sergey Nazarov discussed the plans for how his blockchain would support cross-chain interoperability via the development of Cross-Chain Interoperability Protocol (CCIP). In addition to finding a way to drive scalability across the blockchain industry, Chainlink also has plans to introduce staking on its platform this year, which could also boost the appeal of the LINK token among investors in the crypto market.
Rising Adoption of Chainlink's Technology by Projects
Chainlink has had a busy few days into the new year, announcing several integrations of its services with several projects. Binance Smart Chain based DeFi protocol Waterfall DeFi has announced the integration of Chainlink's Price Feeds to help secure its tranching products.
In keeping with its efforts towards interoperability for the year, the leading decentralized oracle network has also seen its Price Feeds being integrated into IBC-enabled cross-chain DeFi hub Umee. The Cosmos SDK-based blockchain will tap into Chainlink's technology to provide highly secure and reliable ATOM price data to its users.
Meanwhile, Chainlink's VRF is being used by OpenSwap for fair randomness in its NFT-powered transaction validator program. In addition, the VRF has also found new adoption by Vector Field which has integrated this feature to deliver secure randomness for on-chain materiality in NFTs.
LINK/USD Technical Analysis
According to leading crypto analyst and influencer Benjamin Cowen, Chainlink could see a stronger rally in 2022 than the one seen last year. Although it has underperformed in comparison with several other leading cryptos, he anticipates LINK to touch $100 this year.
Taking a look at the H4 price chart of LINK/USD, we find a bullish bias among moving averages and the MACD. However, the momentum indicator is flashing sell signals too.
Chainlink's price is holding above the pivot point at $21.80 and has also crossed the first resistance level at $24.57. The next hurdle buyers will encounter is the second resistance at $27.26, so let's keep an eye on it for now.
Cryptocurrencies were showing strong bullish pressure in the first two months of 2023, but the bullish momentum has faded
7 months ago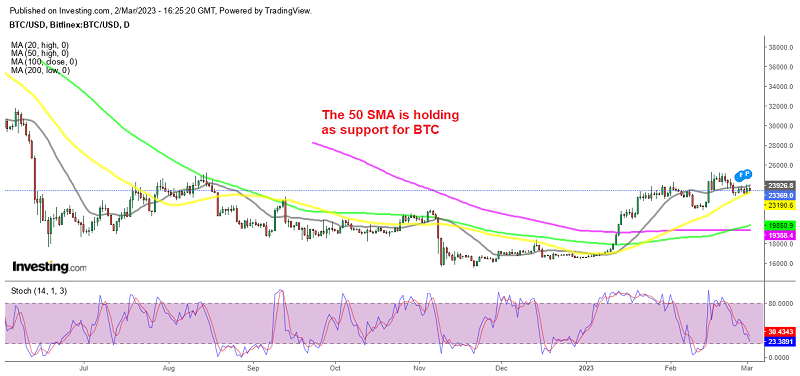 7 months ago