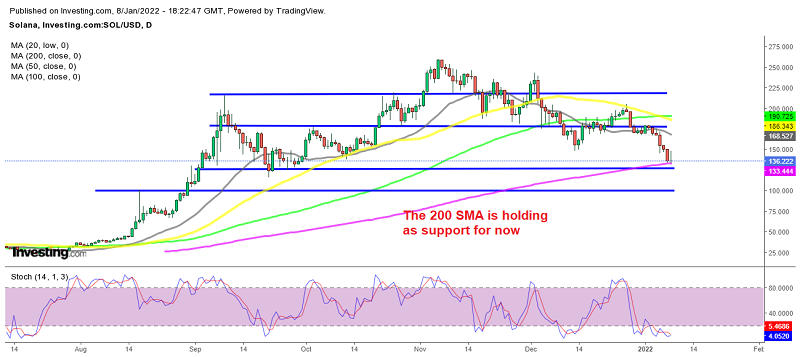 Solana (SOL), Avalanche (AVAX) Cryptos Slip Toward Second Support
It seems like this bearish wave in the crypto market is not ending. After turning bearish in November and enduring some heavy losses, cryptos stalled during most of December and formed some support which held until this week. This week the sentiment turned negative again and we are seeing cryptocurrencies go through another selling phase.
Solana and Avalanche are two Layer 1 blockchains and have seen increased interest lately with the increase of decentralized finance (DeFi) are enduring some heavy losses but this makes them cheaper to buy, so let's see where we can buy them.
Solana Daily Chart Analysis – Can the 200 SMA Hold As Support?
Solana is one of the most promising blockchains and some think it will be a Bitcoin killer. There are hundreds of projects built on the Solana network and more should come, as Solana developers are looking at ways to bring down gas fees further and make it more scalable. The DeFi total value locked in Solana exceeds $11 billion and is growing, which should keep the pressure to the upside for SOL coin.
Although, at the moment the sentiment is quite bearish in the market and SOL/USD broke the support below $180 last week. Now, the price is heading for the next support at $125, but the 200 daily SMA (purple) above $130 stands in the way. The support at $130 would be a good place to look for long in this crypto and even more so if the price heads toward $100.
Avalanche Daily Chart Analysis – AVAX Breaks Support at $100
Seeing if the support at $76 will hold again
Avalanche was one of the strongest cryptocurrencies until late November, climbing even as the market was retreating lower. Eventually, the retreat caught up with avalanche as well, which declined to around $76 from $146. But the previous high from September as well as the 100 daily SMA (green) turned into support and in the second half of December AVAX/USD bounced higher.
This week though the selloff in the crypto market has returned and they are retreating once again. Avalanche has declined below $80 again, heading for the support at $76, so we are following the price action to see if there will be another bounce from there. If that support doesn't hold, then we will try to buy lower toward $50-60 because Avalanche is growing fast as a network, adding USD Coin (USDC) to its network late in 2021, while BitGo added Avalanche support, meaning that BitGo clients such as the exchanges, Bitstamp and Bitbuy, can now offer AVAX coins as well.