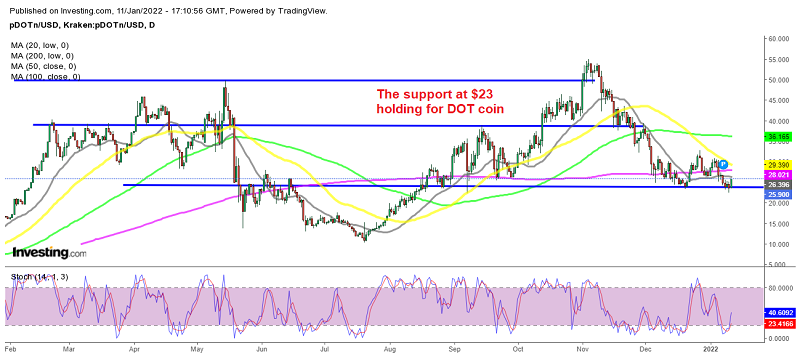 Polkadot (DOT), Fantom Crypto (FTM) Already Turning Bullish?
The sentiment in the cryptocurrency market has been bearish since early November, after most cryptos made some extraordinary gains in October last year. They have endured considerable losses during this time, but today we are seeing signs of a possible bullish reversal for Polkadot and Fantom. Is the decline over for these two digital coins?
Polkadot Daily Chart Analysis – DOT Bouncing Off Support
Polkadot has been progressing with parachanins, launching five of them already which increases the interoperability of the network, since parachains make the connection between different blockchains. 21 of the world's 50 most prominent fund managers actively invested in DOT last year, making it one of the most sought-after crypto assets, followed by other DeFi coins.
Although, the sentiment in the market has been negative since the parachain launch in November and DOT/USD has declined from around $55 to $23. Although, the support down at that area has been holding and today we are seeing a bounce from there as the price increases to $26. So, this might be the end of the decline for Polkadot and it seems like a good place to buy this cryptocurrency.
Fantom Daily Chart Analysis – The 200 Daily SMA Holds As Support for FTM
FTM moves above the support at $2.50
Fantom coin has shown increasing buying pressure in recent months, despite the bearish sentiment in the crypto market. After the retreat in November, FTM/USD resumed the uptrend in December and surged from $1.20 to $3.20 while the market was still retreating.
Even the latest pullback has been weak compared to the retreat in other digital coins. Transactions have been on the increase with more than 1 million being processed on the Fantom network in a day last week. The increase of the DeFi sector within the crypto industry has attracted a lot of interest for Fantom recently. Opportunistic capital moved over to yield farm on Fantom with high yields on stablecoins of around ~30-60% APR. So, this has been keeping FTM coin bullish and will continue to do so in 2022. Now FTM has already moved above the highest support as it bounces off the 100 SMA (green), which means that it is resuming the bullish trend again.
Cryptocurrencies were showing strong bullish pressure in the first two months of 2023, but the bullish momentum has faded
7 months ago