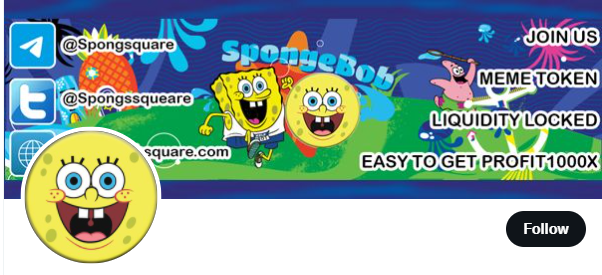 SpongeBob Square Markets (SPONGS) Crypto is Today's Biggest Earner, up 2,400%
As we watch the cryptos that are making the biggest gains today, SpongeBob Square Markets (SPONGS) stands out as a major earner, jumping up 2,414.17% over 24 hours. That's where this digital asset was at the time of this writing, and it could go much higher.
SPONGS is only sitting at $0.0000000006008 right now, but it has the potential to change very quickly. Even if this crypto falls off a cliff, it is going to take a while for it to come down from its massive gains. It is not likely to just stop earning all of the sudden, instead probably slowing down considerably over the next few days as the buying frenzy settles down.
Following a Familiar Path
That is what tends to happen with newer cryptos like this that flare up suddenly and unexpectedly. We have seen this with GamingShiba (GAMINGSHIBA), MetaPets (METAPETS), and more, where they have shot up quickly and spectacularly and then started a steep decline shortly afterwards.
After achieving incredible highs over a short period of time, MetaPets has been falling steadily and steeply for the last week. GamingShiba spiked suddenly and dramatically and then fell sharply right afterwards. It has been on the decline ever since.
When these low-ranked cryptos flare up like this, they attract a lot of attention. Those who have bought into them may sell quickly while the rate is very high. Those buying the crypto up for the first time once they gain some notoriety may sell off as soon as they start to make a profit, just in case the crypto begins to plummet unexpectedly.
Looking at the history of less prominent cryptos and how they enjoy a startling rise to popularity and higher rates over a short period of time, we see the trend is that they often quickly flame out. Something like Dogecoin (DOGE) would be the exception to this, but more often than not those tend to lose their massive gains quickly.
This is what we expect of SpongeBob Square Markets as well. It is not likely to keep seeing these kinds of huge price gains for very long. It will probably flame out quickly, so those who are already invested may want to sell soon. Anyone looking to invest in this crypto may not want to wait long before their window of opportunity closes, or they may want to hold off and see what it does first.
What Is SPONGS?
This crypto was created with the idea moving it beyond speculative decentralized currency. Every transaction of SPONGS comes with a 10% commission. Some of that goes back to the token holders, and others are put into a PancakeSwap liquidity pool. This helps to create a sense of value for the crypto and make it stand out from other digital assets that are merely speculative.
SPONGS launched on Monday this week and is already making waves within the cryptocurrency industry, but it remains to be seen what kind of lifespan it will have.