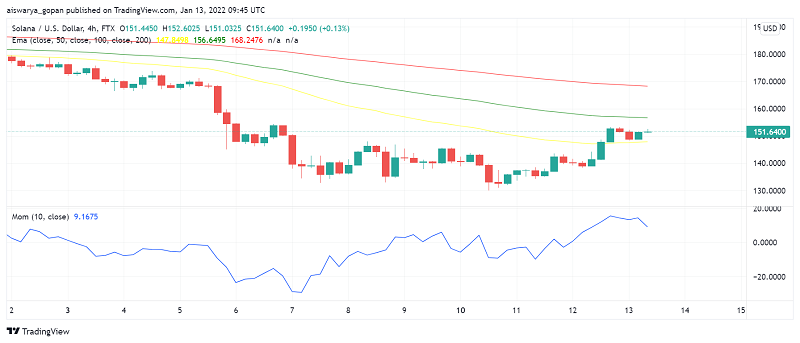 Solana (SOL) Trades Close to Pivot Point: Which Way Next?
Solana (SOL) is still showing some weakness even as the crypto market is enjoying somewhat of a recovery as Bitcoin climbs past the $43,000 mark, weighed down by network congestion issues which have forced Binance to pause withdrawals via the network at different intervals. At the time of writing, SOL/USD is trading at around $151.64.
Solana Still Faces Network Congestion Issues
The high speed network continues to extend into this week with the transaction dashboard on Solana Beach revealing a few failed transactions even at present. About a week ago, the blockchain's developers had taken to Twitter to announce that the network's performance was impacted due to high compute transactions which were causing these failed transactions for other users. This was followed by the blockchain's co-founder Anatoly Yakovenko denying that Solana was experiencing a DDoS attack and maintaining that it was network congestion.
However, with the issues still persisting, leading crypto exchange Binance has decided to pause withdrawals on the Solana network for its users from time to time even as it coordinates with the project to look for a stable, long term solution. Several users have also highlighted the troubles they have been facing with regards to their transactions on Solana, although the frequency of failed transactions has come down since the past week.
Bank of America Likens Solana to Visa
Even as the network congestion issue plagues one of the fastest blockchains in the market, there is some relief for investors in the potential Ethereum killer. According to a recent research note shared by the Bank of America (BoA), Solana has the potential to become the "Visa of the digital asset ecosystem" owing to its high throughput, scalability, ease of use and low transaction costs.
According to BoA analyst, Alkesh Shah, "Solana prioritizes scalability, but a relatively less decentralized and secure blockchain has trade-offs, illustrated by several network performance issues since inception. Ethereum prioritizes decentralization and security, but at the expense of scalability, which has led to periods of network congestion and transaction fees that are occasionally larger than the value of the transaction being sent."
SOL/USD Technical Analysis
On the H4 chart of SOL/USD, most of the smaller and medium timeframe moving averages as well as MACD are suggesting buying interest. Although, the 100 EMA, 200 EMA and the momentum indicator suggest some bearish moves too.
Solana's price sits just above the pivot point at $150.02 at the moment but well below the immediate resistance at $167.24. Let's see if we can see buyers remain in the market to keep SOL trading above the PP mark.
Cryptocurrencies were showing strong bullish pressure in the first two months of 2023, but the bullish momentum has faded
3 weeks ago