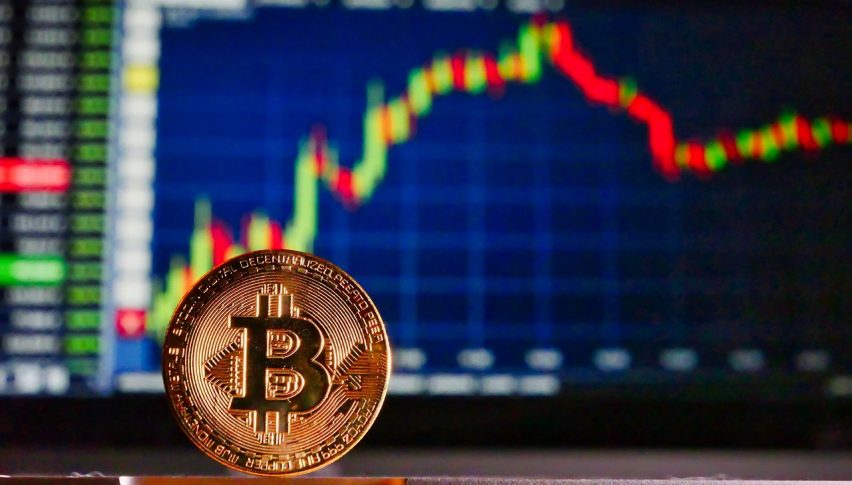 Bitcoin (BTC) Slowing, but Which Direction Is It Headed?
Bitcoin has fallen just a little today, down 2.20%, bringing the leading crypto to $42,342.44 (BTC/USD). Trade volume is practically flat today, up just 0.79% over the last 24 hours. That's a trade volume of more than $18 billion, though, so Bitcoin is still healthy.
It is simply not going anywhere at the moment.
Bullish or Bearish?
Right now, Bitcoin is neither. Looking at its movement for the last few days, we can see it has stayed around the $43,000 mark with little variation. Bitcoin doesn't usually stay this still for this long, which makes us expect an impending change.
The market has been trending down overall, which makes us think that there is a good possibility that Bitcoin will fall further when it starts to see some serious movement. The crypto played close to the $40,000 level earlier in the month, and it could move back there again, testing that level as it trends downward.
Alternatively, we could see Bitcoin move up for a short period. Back on December 27th, Bitcoin was at $51,000. We don't expect it to shoot that high again so soon, but it could push up close to 45,000 in the next couple days and work towards the $50,000 level before falling again, probably not breaking that $50,000 wall, though.
We are not expecting a major bullish or bearish trend for Bitcoin right now. While investors are hoping for a turnaround from the last two months of downward movement for Bitcoin, the immediate future is not looking very bright for Bitcoin. We could see a reversal of fortune simply because Bitcoin has been going down for so long, but without any exterior factors affecting Bitcoin's movement one way or the other, it is more likely that the coin will continue to trend toward the $40,000 level.
When to Buy?
There is no reason to be overly hopeful for Bitcoin for the rest of January outside of the facts that this has been a resilient crypto that continues to enjoy a very large market share and a high trade volume. These factors, however, are not enough for us to expect a major turnaround anytime soon. Anyone looking to invest in Bitcoin will likely want to hold off to see how far it falls before they start buying up tokens.
Because we have seen several days of mostly flat movement that keeps returning to the $43,000 level, some significant movement in one direction or the other is expected imminently. Investors should be looking for that movement and taking advantage of it as it happens. Coming out of the weekend, the price could change at any moment as trade volume may pick up throughout the week.