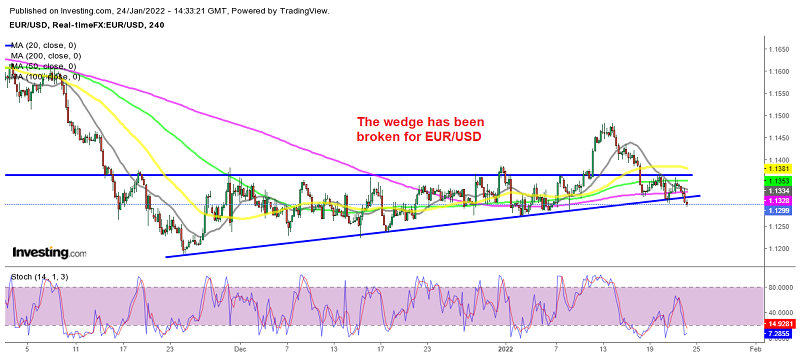 EUR/USD Resumes the Downtrend, Even After the Rebound in the German Economy
The Eurozone economy surged during summer, with manufacturing and services catching up with the US, as the PMI indicators showed a move above 60 points. But in the next few months, the economy slowed as we headed into winter, and fears of further restrictions and lockdowns increased.
The Omicron variant looked dangerous at first, which weighed further on the sentiment, but now it does not seem so dangerous, which means that restrictions will be light and will not affect the economy much. Besides that, there have been lots of protests against restrictions, all across Europe, so the economic sentiment is improving. Today's flash manufacturing and services reports from Germany and the Eurozone for December came out quite strong, but the EUR/USD has turned bearish again nonetheless, breaking the ascending support line.
Germany January Flash Manufacturing
January flash manufacturing PMI 60.5 points vs 57.0 expected
December manufacturing PMI was 57.4 points
Services PMI 52.2 points vs 48.0 expected
December services were 48.7 points
Composite PMI 54.3 points vs 49.4 expected
December composite was 49.9 points
That's a modest rebound in activity, as the German economy displays some notable resilience to start the new year. The headline reading is a five-month high with the composite reading also bouncing to its highest level in four months. This comes after tentative signs of easing of supply chain disruptions. That said, price pressures remain elevated, with input cost and output charge inflation holding close to record highs in the survey. Markit notes that:
"January's flash PMI numbers came in comfortably above consensus to show a surprisingly resilient performance from the German economy at the start of the year, buoyed in particular by strong factory output growth.
"Manufacturing is expected to stage a recovery in 2022 as supply bottlenecks ease, but seeing growth of this speed already is a welcome development. The drag on production from supply-chain issues looks to have eased further, although there is still a lot of room for improvement on this front.
"January's services numbers, showing activity recovering slightly after the decline at the end of last year, were another positive surprise, and are perhaps evidence that German businesses and consumers alike are learning to cope with COVID and any associated restrictions. All in all, the data marks a positive start to the year and goes some way to allaying fears about the impact of Omicron on the German economy in the first quarter.
"Still, rising costs remain a concern for businesses, with the survey data showing that input prices are continuing to rise sharply and on multiple fronts."
Eurozone January Flash Services
January flash services PMI 51.2 points vs 52.2 expected
December services were 53.1 points
Manufacturing PMI 59.0 points vs 57.5 expected
December manufacturing was 58.0 points
Composite PMI 52.4 points vs 52.6 expected
Prior composite was 53.3 points
The services reading slumped to a nine-month low, owing much to a decline in activity as Omicron spreads. That said, the sector still posted a slight growth reading and that argues that perhaps the impact of Omicron on Q1 activity may be milder than anticipated. The slight easing of supply chain disruptions helped to bolster manufacturing activity, so that is a plus on the month too.
Markit notes that:
"The Omicron wave has led to yet another steep drop in spending on many consumer-facing services at the start of the year, with tourism, travel and recreation especially hard hit. However, so far the overall impact on the wider economy appears relatively muted, and most encouraging is the further easing of manufacturing supply chain delays, despite the renewed virus wave. Not only has the alleviating supply crunch helped factories boost production, but cost pressures in manufacturing have also moderated.
"Importantly, while the Omicron wave has dented prospects in the service sector, the impact so far looks less severe than prior waves have been. Meanwhile, perceived prospects have improved among manufacturers, linked to fewer supply shortages, adding to the brightening outlook.
"In the meantime, however, prices for goods and services are rising at a joint-record rate, as increasing wages and energy costs offset the easing in producers' raw material prices, dashing hopes of any imminent cooling of inflationary pressures."
EUR/USD should break below 1.06 this week with the business climate and inflation softening further in September
2 hours ago