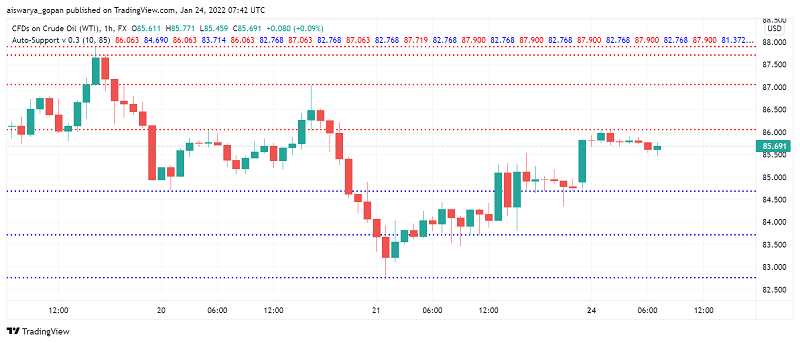 WTI Crude Oil Bullish as Traders Fear Tightness in Supply
WTI crude oil prices are on the rise at the beginning of a brand new trading week, gaining as much as 1% over increasing geopolitical tensions in Eastern Europe over Russia and Ukraine even as the situation in the Middle East also remains tense. At the time of writing, WTI crude oil is trading at around $85.68 per barrel.
The current bullishness has helped WTI oil erase its previous session's losses despite the commodity posting a weekly gain for the fifth straight week. So far this year, crude oil prices have already strengthened by over 10% as a result of increasing concerns about tightness in supply even as global oil demand is likely to rebound strongly.
OPEC and its allies have failed to reach their output target despite increasing oil supply at a gradual pace over the past few months. Meanwhile, demand for the commodity remains strong despite the rampant spread of the Omicron variant, causing markets to worry about the tight supply.
Crude oil is also trending higher as traders fear possible disruption in supply across the Eastern European region over rising tensions between Russia and Ukraine. The US has ordered eligible family members of its embassy staff to depart Ukraine and has cautioned all its citizens to leave the country over heightened possibility of a military attack by Russia.
Meanwhile, a deadly drone attack by Yemen's Houthi rebels against the UAE has sparked concerns of oil supply being disrupted in the oil-rich region. This comes even as leading oil producing nations of the world and their allies fail to hit their monthly output increase target set at 400k bpd, with OPEC+ compliance to its oil production curbs soared to 122% during December.