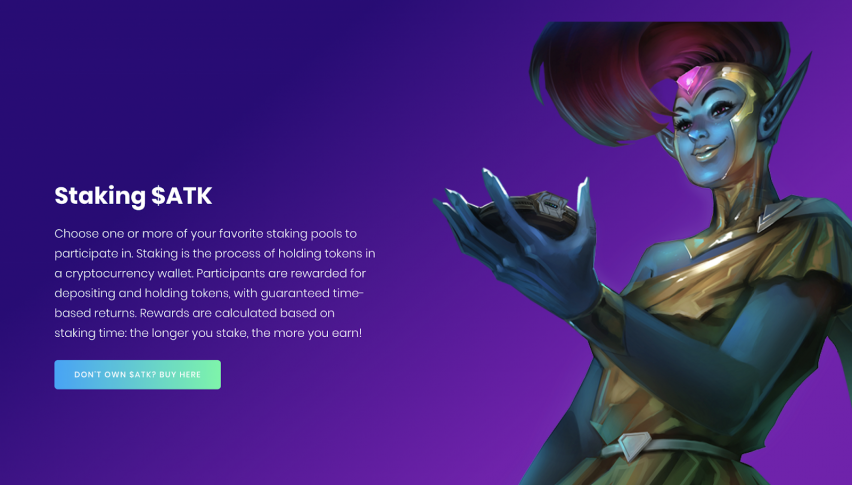 Blockchain Game Studio Attack Wagon's On-Site Staking Program Goes Live
Blockchain game studio Attack Wagon has launched its on-site staking program during the previous session, giving users an opportunity to participate in developing a brand new experience in the GameFi space. Founded in January 2021, the firm focuses on developing Free to Play and P2E games and has its own native token ATK, which are available for purchase on Gate.io and QuickSwap. 
Users can stake their ATK holdings across three staking pools, based on the number of days of mandatory lock – silver, gold and platinum. If users opt for the minimum lock in period, they enjoy APYs listed as early return but if they choose to keep the tokens staked until they mature, they can enjoy far higher returns on their holdings. 
The silver staking pool has a cap of 5 million ATK tokens and requires users to lock in their tokens for 45 days to enjoy an early return APY of 10% and a maturity return APY of 20%. The gold staking pool has a cap of 3 million ATK and a mandatory lock period lasting 90 days but will give users higher APYs of 20% and 40% on early return and maturity return respectively. The platinum staking pool with a set cap of 1 million has a mandatory lock duration of 180 days to generate early return and maturity return APYs of 40% and 100% respectively.
Attack Wagon was devised with an aim to lower entry barriers into the lucrative world of play to earn, offering parts to gamers for free for maximum engagement and monetization of players' efforts. The parts gain value with higher levels of usage as they get upgraded with use, giving the potential to generate more value over time.
The game studio's ecosystem also features land plots which can be purchase to help users generate additional income as they enjoy a portion of revenues earned from the NFT marketplace. These land plots will increase in value as the firm releases more games that can be played on these virtual pieces of real estate.
Attack Wagon's first game, Scrap Guilds, is under development with a planned launch date in Q2 2022; meanwhile, their first Land Sale, NFT marketplace and more are expected to launch soon. Scrap Guilds is a Sci-Fi RPG experience that uses the ATK token within its interface and offers multiple opportunities for players to generate revenues, both by playing the game and now via staking for passive income generation.