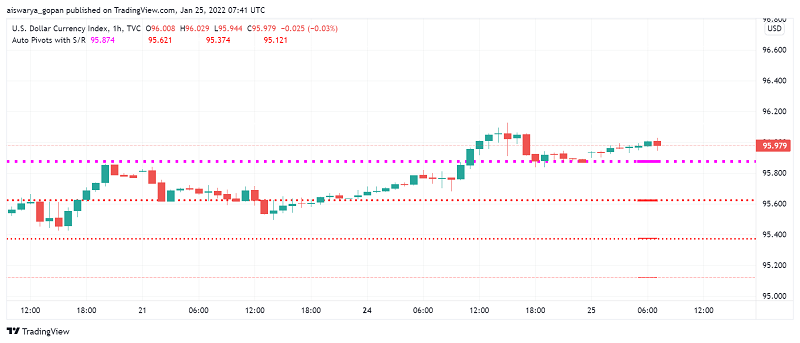 Geopolitical Tensions Boost US Dollar's Safe Haven Appeal
The US dollar is enjoying support and trading strong against other leading currencies on Tuesday as rising geopolitical tensions because of the situation in Ukraine bump up its safe haven appeal among investors. At the time of writing, the US dollar index DXY is trading at around 95.97, after touching the highest levels seen in two weeks during the previous session.
So far, forex markets had remained unaffected by the massive troop build-up along the Russia-Ukraine border. However, traders have turned wary after NATO confirmed that it was keeping its forces on standby, a move that heightens the likelihood of a military conflict in the Eastern European region.
The US has already started evacuating embassy staff's family members from Ukraine and has cautioned its citizens to move out of the country too. In addition, the Biden administration is planning to send in US troops from Western Europe to the region, which could further raise tensions and keep markets trading with a risk-off sentiment, lending further support to the safe haven greenback.
The US dollar is also trading bullish in anticipation of the upcoming FOMC meeting scheduled to start later today. Amid the strong rebound in the US economy and the failure of Omicron to have an economic impact, traders are increasingly hopeful that the US central bank could announce details on the timeline for monetary tightening measures.
Markets expect the Fed to start hiking interest rates by March, which could bring the interest rate up to 0.25%. This could be followed by another three rate hikes until the end of the year when the interest rate could rise from the current record lows to 1%.
The USD ended up higher after the last FED meeting, so today's FOMC minutes point to more bullish momentum for the USD
2 months ago