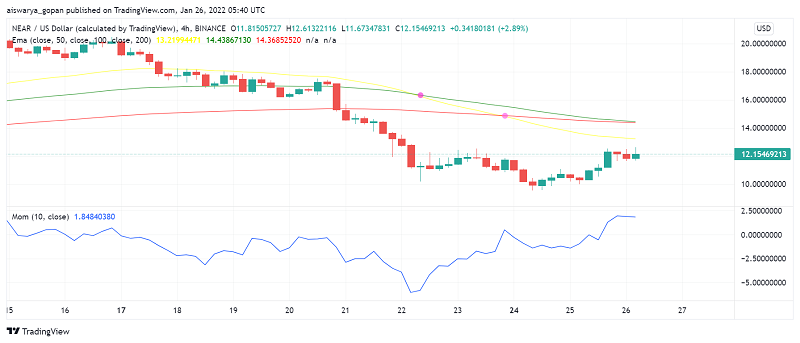 NEAR Protocol Weak But Offers Solid Long Term Prospects For Investors
NEAR Protocol (NEAR) has been one of the biggest losers in the crypto market amid the ongoing risk-off mood keeping investors away as market leader Bitcoin continues to hold around the $36,000 level. At the time of writing, NEAR/USD is trading at around $12.15, down by over 31% in the past week.
After sliding under the key $10 mark, NEAR did see quite a rebound which took it past the $12 level recently. However, a lack of investor confidence in the crypto sector and possible profit taking have taken the token back under $12, although for now it seems to be holding steady.
After being under the radar for most of last year, the NEAR Protocol registered a strong performance towards the end of 2021 ever since the launch of its EVM, Aurora. This has raised expectations that its ecosystem could soon turn into an attractive alternative for dApps in the coming months, making it an interesting cryptocurrency to invest in. The sentiment helped NEAR gain over 800% of its value through 2021 and make it to the list of the top performing altcoins to watch.
What makes the NEAR Protocol a strong contender as a potential Ethereum killer is its high transaction speeds of up to 1,000 TPS which can go up to as much as 100k TPS. Its use of sharding technology which splits the load of processing transactions among multiple nodes makes it a far more efficient blockchain. A recent article on Nasdaq calls the blockchain the Ethereum of 2022, and could very well hold true amid the rising adoption of Web 3.0 around the world.
According to Electric Capital, NEAR Protocol is one of the fastest growing cryptocurrency ecosystems, registering a nearly 300% spike YoY in the the number of full time developers working on it in December 2021. It corners the third spot in rankings, just under Terra and Solana but offers tight competition to both its rivals.
NEAR/USD Technical Analysis
Technical analysis of the H4 price chart of NEAR/USD reveals a bullish bias among smaller moving averages and the MACD. However, the medium and larger timeframe MAs and the momentum indicator suggest selling interest in the market.
NEAR Protocol's price is trading under the pivot point at $14.00 but well above the immediate support at $7.82. We could see the support being tested in case selling pressure builds up and NEAR's price falls under the key $10 level.