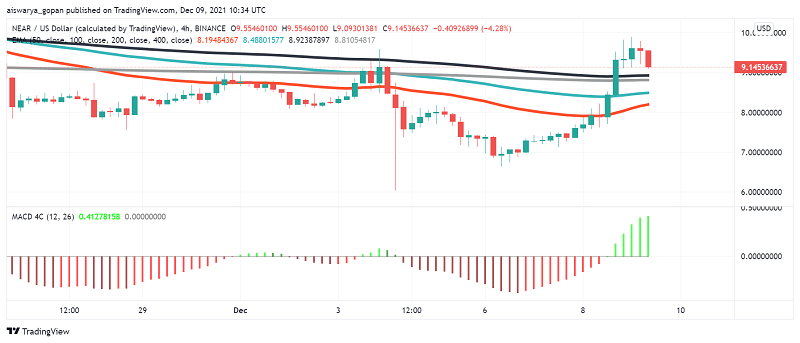 NEAR Protocol Surges, Makes Double Digit Gains in a Bear Market
Even as most of the crypto market fails to see much buying activity on account of Bitcoin's weak price, NEAR Protocol (NEAR) is experiencing quite the surge and rising by almost 20% in the past 24 hours, turning into one of the biggest gainers. At the time of writing, NEAR/USD is trading at around $9.14.
NEAR has seen a sharp spike in trading volume in recent sessions, on December 4 and then again during the previous session. Increased trading activity in the token is one of the biggest drivers behind the bullish moves being seen, keeping its price supported.
One of the possible reasons for the increased trading activity in the NEAR Protocol could be Swiss based crypto payments infrastructure firm MoonPay adding support for the NEAR token on its platform. The development will allow the over five million customers of MoonPay to buy NEAR directly on its platform, against the previous offering which allowed European users to purchase the token using their debit or credit cards.
According to Co-founder and CEO at MoonPay, Ivan Soto-Wright, "By providing a direct on-ramp to NEAR, we're giving more people exposure to this exciting and dynamic ecosystem. We'll be watching eagerly as NEAR develops and new projects emerge as the community expands. We can't wait to see what's in store for it next."
Can We See a Spike in NEAR Protocol's Adoption Among dApps Soon?
NEAR's ecosystem has been quite busy since the beginning of this month, adding new projects, which could also be supporting its price of late. The NEAR Protocol announced a partnership with KYVE for the blockchain's developers to leverage storage and validation for their data streams. KYVE will bridge data from NEAR, including blocks and transactions, and storing it permanently on Arweave – a decentralized storage network custom made for Web 3 projects.
Another exciting development that could further spur investor interest in the NEAR token is EVM and trustless bridge between NEAR Protocol, Ethereum and Aurora networks, Aurora, integrating with Flux Protocol's oracle services. The development will give a huge boost to NEAR in terms of DeFi capabilities, giving projects on Aurora access to secure and accurate real word data on-chain and giving developers one more reason to consider migrating their dApps from Ethereum to NEAR Protocol's ecosystem.
NEAR/USD Technical Analysis
On the 4-hour chart of NEAR/USD, moving averages along with the MACD are exhibiting a bullish bias. However, the momentum indicator reveals some selling interest as well.
NEAR Protocol's price is sitting well above the pivot point at $7.69 but buyers seem to be struggling with the immediate resistance at $9.25 at the moment. Let's keep a close eye on the price action to see if the bullish momentum can power a breakout of this level and past the key $10 mark for NEAR.