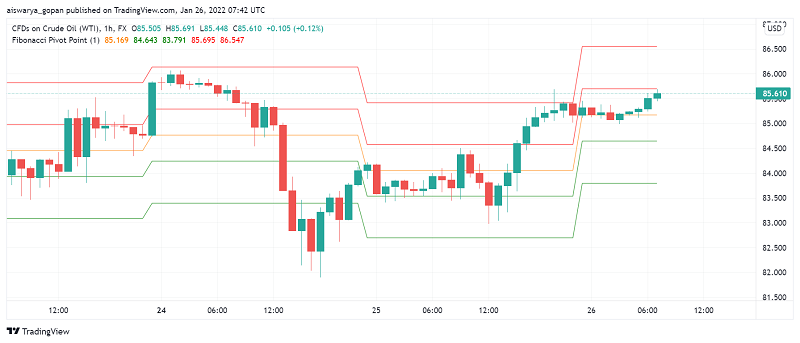 WTI Crude Oil Surges Over Fears of Russia-Ukraine Conflict Tightening Supply Further
WTI crude oil is exhibiting signs of bullishness early on Wednesday as traders remain on edge over the possibility of an armed conflict between Russia and Ukraine, a sentiment which is keeping the commodity supported despite the continued spread of COVID-19 around the world. At the time of writing, WTI crude oil is trading at around $85.61 per barrel.
WTI oil prices strengthened by 2.75% during the previous session over the increased geopolitical tensions in Eastern Europe. Investors are concerned that the tightness in oil supply in international markets coupled with low inventories could keep the commodity well bid in the coming months. Meanwhile, the possibility of an armed conflict erupting could drive further tightness in oil markets, keeping prices higher despite the risk-off mood in global markets.
The Biden administration has already diverted 8,500 troops stationed across Western Europe closer to the region, prepared to deploy them if tensions escalate further along the border. In addition, government officials have confirmed that the US is discussing the possibility of diverting oil supplies to Europe from leading oil producing nations of the world in the event of a military conflict, further raising tension and keeping crude oil bullish.
In addition the Russia-Ukraine situation, there is also considerable uncertainty over US-Iran nuclear talks. If they fail to arrive at a deal, oil supply could remain tight for longer as the world would have to wait longer for the West to remove sanctions on Iranian exports of crude.
WTI oil is also supported by expectations of a drawdown in US crude inventories over the past week, especially after crude stocks in Cushing, Oklahoma falling to the lowest levels in a decade for this time of the year. The API report which released in the previous session revealed a drop in crude inventories across the US by 872k barrels for the previous week, a more severe decline than the 700k barrel drop forecast by economists.