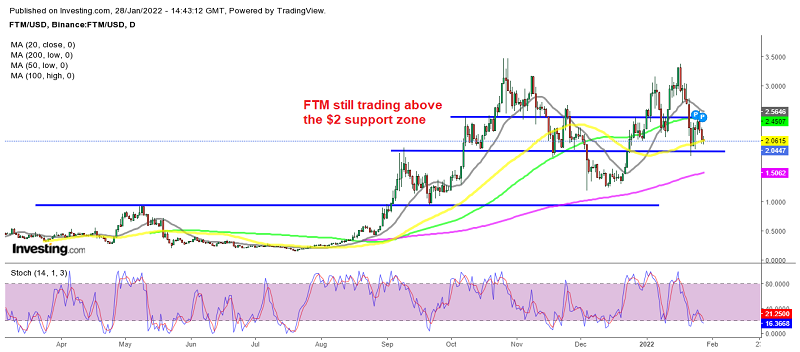 Are Fantom (FTM) and Avalanche (AVAX) Cryptos Good Buys Right Now?
Cryptocurrencies turned bearish in November, as the crackdown continues and central banks start to tighten the monetary policy, which means that the money to invest in the crypto market and other markets won't be so loose. As a result, we have witnessed some major losses in most cryptocurrencies, which has actually made them more attractive to buyers. Fantom and Avalanche are two of the most bullish cryptocurrencies and it looks like they want to resume the uptrend as soon as the sentiment improves in the market. But are they good opportunities to buy right now after the retreat?
The Support Around $2 Holds for FTM
Fantom is an interesting blockchain network, since it uses the Lachesis technology and in contrast to Ethereum which can be considered as a decentralized computer/blockchain, Fantom is a network of decentralized computers/blockchains, which can communicate with each other.
This increases scalability, speed and of course, decreases the costs for Fantom as a result. As a result, it has attracted investors with 129 protocols using the Fantom network and a total value locked (TVL) in DeFi at $12.2 billion, or more than 6% of all the DeFi TVL value in the crypto market, passing Binance Smart Chain (BSC) and ranking at number 3 behind Ethereum and Terra LUNA. This has been keeping Fantom bullish
This means that there is a lot of interest in its native token FTM, which has been probably the most bullish crypto coin in the market. FTM/USD retested all-time highs about two weeks ago when the market was in the middle of a major bearish retreat. Although, it has gone through a minor retreat recently, but the support zone around $2 keeps holding. So, if this getzonedup.com support zone holds then we might decide to buy Fantom, especially if the sentiment in the market starts to improve.
Resistance Turns Into Support for AVAX
Avalanche which is another multichain network, with three blockchains instead of one, performing different tasks, is considered as one of the fastest smart contract platforms.  This increased confidence for crypto developers in Avalanche, which has ver 150 projects are running on it so far.
The $55 zone has turned into support for Avalanche
This has kept AVAX/USD bullish, which continued to make new highs until late November, even though the market was retreating. Although, the bearish sentiment in the crypto market during the last three months has weighed on AVAX, which broke below the first support at $100 and then it broke the second one below $80.
Although the previous resistance at around $55 turned into support and held the decline. The 200 daily SMA (purple) has also been helping, so this might be a good chance to go long here as well. Although, we have to follow the sentiment in the crypto market and buy Avalanche only when it starts improving.