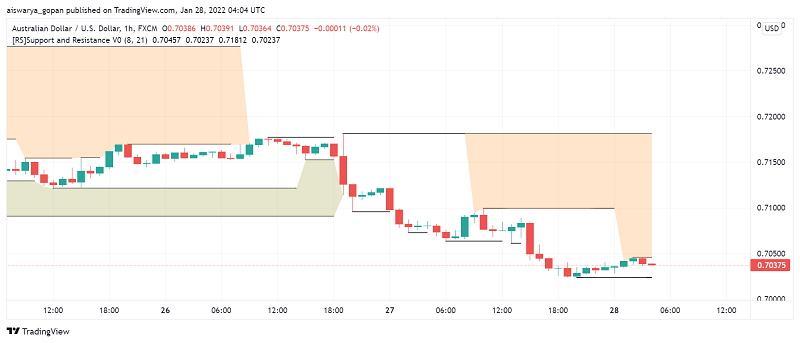 Commodity Currencies AUD And NZD Lose Ground Against USD
Commodity currencies AUD and NZD are trading in the red as the week comes to a close, with forex traders focusing completely on the Fed's upcoming rate hikes and buying into the USD. At the time of writing, AUD/USD is trading at around $0.703.
For the week, the commodity currency has lost around 1.9% of its value against the greenback, driven lower initially by a risk-off mood in global financial markets owing to geopolitical tensions. The bearish moves in AUD/USD were further bolstered after the FOMC when Fed Chair Powell hinted at multiple rate hikes through the year to counter rising inflation in the US.
AUD/USD is on track to post the worst weekly performance seen since August 2021 and looks very close to testing the 2021 low of $0.6993. If investors continue to trade the sentiment surrounding the Fed's anticipated hawkish tilt, we could see this currency pair test this level and move further lower.
Looking ahead, the currency pair could experience some volatility next week after the RBA meeting, when the Aussie central bank is widely expected to announce http://theshoalspharmacy.com an end to its bond purchases. However, a rate hike could take longer, with some analysts expecting the RBA to hike rates only by August.
Meanwhile, NZD/USD has also dropped by 1.9% so far this week on account of the same fundamentals. In the previous session alone, it lost around 1.1% of its value and has been trading bearish for six straight sessions, despite high inflation spurring expectations for faster rate hikes by the RBNZ.