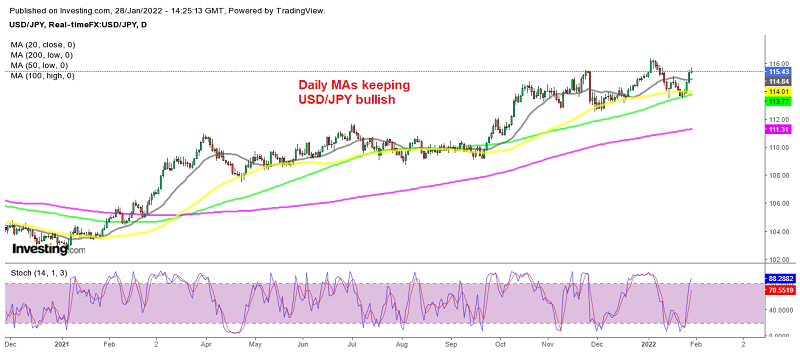 Keeping the Buy Positions in USD/JPY With the USD Remaining Bullish
The USD turned bullish in summer last year after being bearish since the beginning of the pandemic. Inflation started surging in 2021 and by summer it increased above 5% which forced the FED to turn hawkish. The USD remained bullish until December last year, which kept USD/JPY bullish.
Earlier this month this pair retreated down, but the FED sounded really hawkish on Wednesday's press conference, suggesting that they might hike by 50 bps in March and continue hiking throughout the year, which would be very bullish for the USD. So, USD/JPY resumed the bullish trend this week and today's PCE inflation figures support the uptrend here for weeks to come. So, we decided to buy this pair again after cashing in on yesterday's buy forex signal here.
December US PCE Inflation and Consumer Data
US December core PCE 4.9% vs 4.8% expected
Novemer PCE was 4.7%
PCE price index MoM +0.4% vs +0.6% prior
PCE price index YoY +5.8% vs +5.7% prior
Consumers spending and income for December:
Personal income +0.3% vs +0.5% expected.
Personal spending -0.6% vs -0.6% expected.
Real personal spending -1.0% vs -0.2% prior
There's nothing here that would have spooked Powell this week. You would like to see the month-over-month number start too cool. Energy prices fell in December but the slack was picked up elsewhere, pushing the overall index 0.4% higher.
US Employment Cost Index
US employment cost index for 4Q 1.0% versus 1.2% estimate
prior 3Q gains was 1.3%
employment wages 1.1% versus 1.5% previously
employment benefits 0.9% versus 0.9% previously
YoY employment costs rose 4.0% vs 2.5% in 2020
Wages and salaries in 2021 rose 4.5% vs 2.6% in 2020
Benefits YoY rose 2.8% vs 2.3% in 2020
Private Employment costs increased 4.4% YoY vs 2.6% in 2020
Public employment costs increased 2.6% YOY vs 2.3% in 2020
For the full report CLICK HERE
The markets are concerned about online-pharmacy.org the impact on higher wages on inflation. The trend higher in 2021 will be worrisome for the Fed. Although this report shows an easing of the move higher, the 1.3% and 1.0% back-to-back gains are still a concern, it just is not as bad as expectations. So there is some relief.