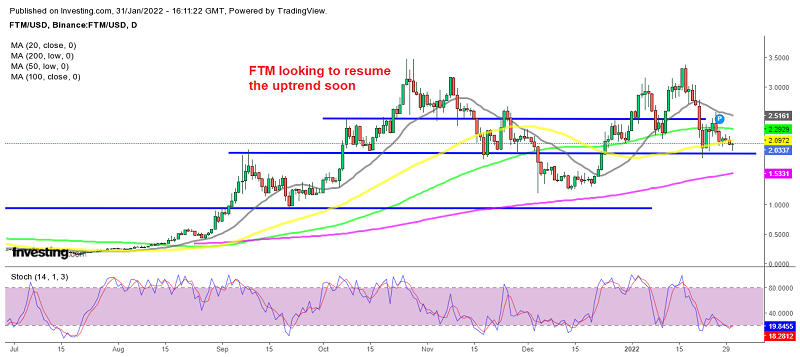 Seriously Considering Buying Fantom (FTM) and Avalanche Cryptos (AVAX)
The cryptocurrency market has been bearish for almost three months now, as lows keep getting lower in major cryptocurrencies. while buyers look really weak. Although I continue to feel positive about certain digicoins, such as Fantom and Avalanche. They have been showing resilience and are finding support, pointing to a bullish reversal soon. So, I am thinking about opening two buy positions in FTM and AVAX, but let's see how they look first.
Fantom Daily Chart Analysis – The Support At $1.80 Continues to Hold for FTM
Fantom has turned into the most bullish cryptocurrency in recent months, progressing in ranks to number 29 by market capitalization, which at the moment stands at $5.171 billion. Fanton is a very interesting blockchain network. Big investing names such as Grayscale are turning to Fantom, helping keep the sentiment bullish for this token. Fantom offers massive yield rewards from 20% up to 50%, so it is also attracting large funds into the DeFi, increasing the total value locked (TVL) to around $7 billion. Newer projects such as veDAO and OxDAO are also increasing the TVL further.
Transactions on the Fantom blockchain exceeded 1.2 million earlier this week, surpassing those in Ethereum. So, the fundamentals look great for Fantom and FTM/USD is itching to turn bullish. The Support at $1.80 is holding, so we are really thinking about going long on FTM. If we do, you can follow that trade on our live forex/crypto signals page.
Avalanche Daily Chart Analysis – The 200 SMA Pushing AVAX Higher
The support around $55 holds for AVAX
Avalanche has not been as bullish as Fantom, but this blockchain is also very promising, so this retreat seems like a great opportunity to buy AVAX/US. This cryptocurrency surged from around $10 in August to $145 by late November, even though the crypto market had started to reverse lower a couple of weeks earlier.
AVAX/USD reversed lower eventually, with the sentiment in the market turning really bearish and it broke below the support levels at $100 and $80. Although, the next support zone around $55 held and now Avalanche is preparing to reverse higher, especially if the market sentiment starts improving. Avalanche has three blockchains instead of one, increasing the confidence for crypto developers, with over 150 projects running on it so far.