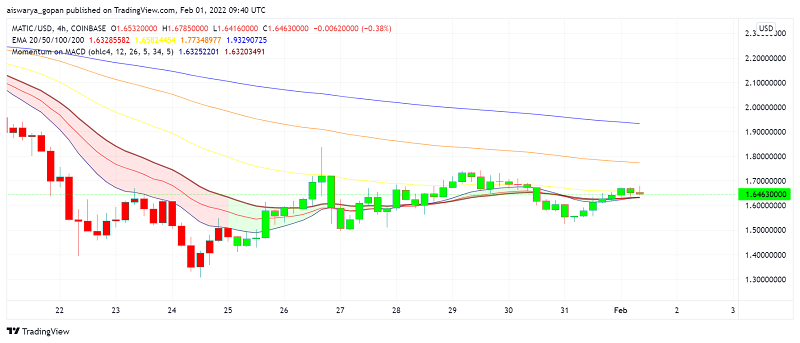 Polygon (MATIC) Turns More Appealing For Investors: Here's Why
On Tuesday, Polygon (MATIC) is trending higher not just in price but also rankings based on its market capitalization, overthrowing Shiba Inu for the 14th position on the Coinmarketcap chart. At the time of writing, MATIC/USD is trading at around $1.64.
Polygon's ecosystem has been gaining considerable popularity in recent months as a more scalable and efficient alternative to the Layer 1 Ethereum network which is plagued with network congestion and high gas fees. According to a recent blog post shared by the scaling solution's developers, the network now boasts over 7,000 dApps, rising by more than double in a span of three months.
Polygon has been making its mark as an exciting blockchain for NFTs, DeFi apps and even gaming apps lately. The network is getting ready to make its splash not only in the areas of GameFi and NFTs with the establishment of Polygon Studios but is also investing heavily in Web 3.0, offering itself as an attractive ecosystem for such dApps as well.
It's not just dApps, however, that have been growing – Polygon has also seen a remarkable growth in the number of project teams. What's even more interesting is that a growing number of teams (55%) are choosing to build dApps exclusively for Polygon against 45% who are also deploying their offerings on Ethereum.
More Supporting Fundamentals For Polygon (MATIC)
One of the most exciting among recent launches on the network is NFTs based on The Beatles' memorabilia, put up by Julian Lennon – the son of John Lennon. Titled the "Lennon Collection", it includes a digitized version of Lennon's handwritten notes for the hit, "Hey Jude", and more. The decision to opt for Polygon was taken by the creators owing to its status as an environment friendly blockchain.
In more promising news for the MATIC token, VanEck has announced the launch of its first multi-asset cryptocurrency fund, which includes Polygon as one of the digital assets. Listed as an ETN Deutsche Borse Xetra and SIX Swiss exchanges, the fund is sure to increase institutional investors' interest in the cryptocurrency in the coming months.
MATIC/USD Technical Analysis
On the H4 price chart of MATIC/USD, most of the smaller and medium moving averages along with popular technical indicators MACD and momentum are suggesting a bullish bias. However, the longer timeframe MAs – 100 EMA and 200 EMA reveal some selling interest.
Polygon's MATIC is trading above the pivot point at $1.58 and buyers can take the price up comfortably until they encounter the resistance at $1.85. Let's see if the price will test this level today.