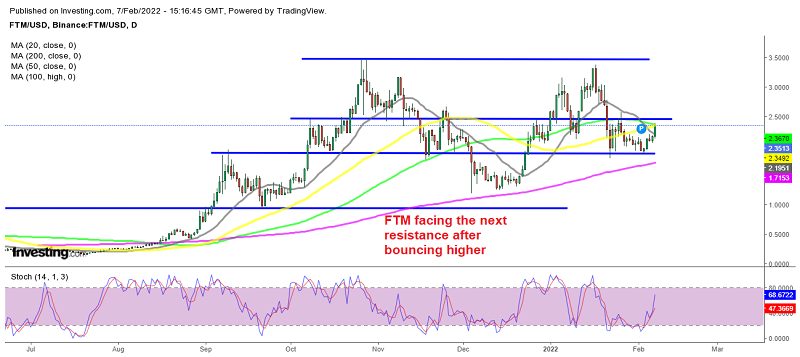 Fantom Crypto (FTM), Shiba Inu Face Resistance As They Turn Bullish
In the last several days we have seen some decent gains in the crypto market, which seems like it's picking up pace. The 3-month decline stalled at first, then the reversal started very slow and now we're seeing some decent gains. Fantom and Shiba Inu coins have also made some considerable gains during the past few days, but they are facing support/resistance levels above now,  which they broke on the way down.
Fantom Crypto Facing MAs Before the Resistance
Fantom has held better than most of the cryptocurrencies during these bearish times. FTM/USD even retested the all-time highs last month, when the market was very bearish. Even the latest retreat hasn't been too big, while major cryptos have lost more than half the vale. Fantom is compatible with Ethereum so developers are familiar to build Dapps on the Fantom network, which is also a lot more scalable and cheaper than Ethereum.
This has made Fantom a favorite cryptocurrency among investors, with large names such as Grayscale deciding to invest in Fantom this year. The number of transactions has surged, surpassing Ethereum at 1.2 million. As a result, crypto exchanges such as Nexo are also listing Fantom, which will expose FTM to millions of users. FTM bounced off the support below $2 last week and today we are seeing another strong bullish move, but now buyers are facing the moving averages on the daily chart, before getting to the next resistance at around $2.50.
Shiba Inu Gains 75% in Several Days
Shiba Inu facing the 100 daily SMA above
Shiba Inu has been on a constant downtrend since late October when the surge ended. The price fell below moving averages, which turned into resistance, especially the 20 SMA (gray) and the 50 SMA (yellow). But, after the surge of the last several days, SHIB/USD has broken above those moving averages and now is facing the last one above.
Shiba's fees are expected to decline as it rolls out Shibarium since this is a layer-2 blockchain and will not have the same congestion issues that the current network which is built on Ethereum has. The number of SHIB holders has been increasing fast, surpassing 1.1 million. Now that the sentiment has improved in the crypto market, Shiba is taking the lead in making gains, but the sentiment in the market has to remain bullish, otherwise, Shiba can turn bearish pretty fast.