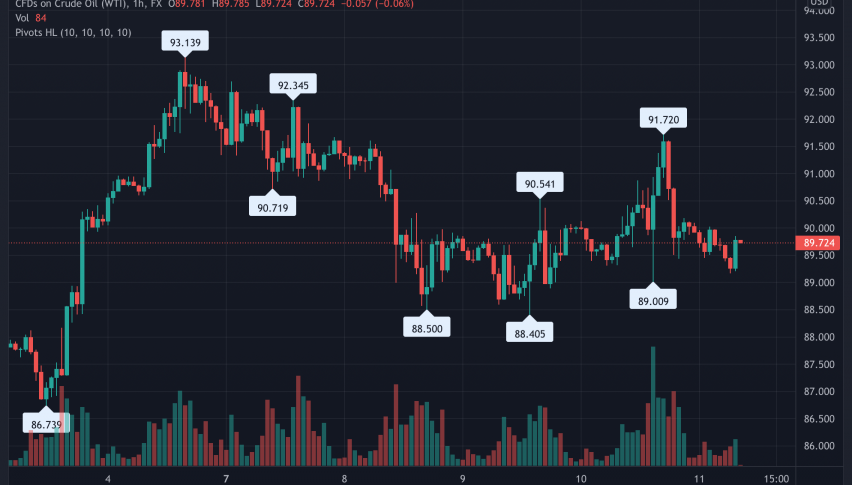 WTI Crude Oil Dips Under $90 After Strong US CPI Reading
WTI crude oil appears to be undergoing some consolidation after slipping under the key $90 level following a decline in the previous session which came about after the release of the US CPI report. At the time of writing, WTI crude oil is trading at around $89.77 per barrel.
The commodity experienced a sharp slide on Thursday after inflation in the US soared to the highest levels seen in four decades, raising the likelihood of aggressive monetary tightening measures by the Fed in the coming months. The possibility of the Fed implementing faster rate hikes has left several traders confused about its impact on oil prices, driving sell-offs and causing the bearish moves.
The drop in crude oil was also the result of the inflation report driving up the value of the US dollar, which shares a negative correlation with the commodity. The benchmark 10-year US Treasury yields also soared past the 2% level, lending more support to the greenback and making the commodity more expensive to buy for holders of other currencies.
 
WTI oil experienced more pressure to the downside after the EIA forecast that crude production in the US could soar to a record high of 12.6 million bpd in 2023. In November 2021, the figure stood at 11.8 million bpd and is expected to reach 12 million bpd this year. The growth in US crude production in the coming months could exert long term pressure on oil prices.
In the short term, however, losses in crude oil remain limited over the looming threat of a possible military conflict between Russia and Ukraine even as other geopolitical tensions around the Middle East and Africa also keep the supply side of oil supported. In addition, a bigger than expected drop in US crude inventories over the past week offers hope for increasing oil demand, offering some hope to oil traders.