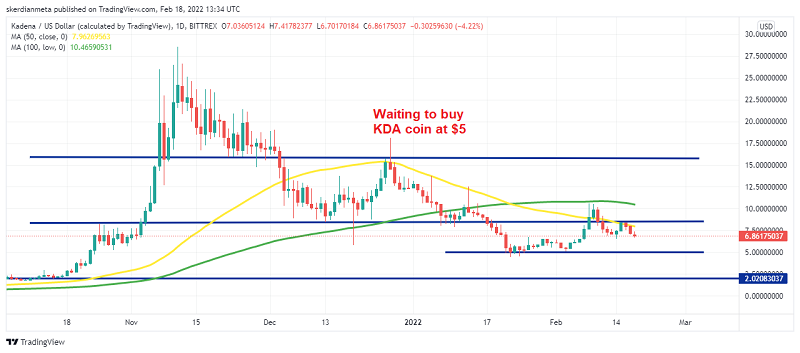 Where Can we Buy Litecoin (LTC), Kadena (KDA) After Failing to Turn Bullish?
After the 3-month decline in cryptocurrencies, which led the crypto market losing more than half its value, it seemed like the bearish period had ended. The crypto market started reversing higher in the last week of January, giving the impression that the larger bullish trend was resuming.
But, for a week now, digital coins have failed to push higher, and in the last two days they have turned lower, with Ethereum (ETH) falling below $3,000 while Bitcoin is facing the $40,000 level once again. Litecoin and Kadena have failed to push above the technical resistance, and now they are slipping lower, so let's see where the best levels are to look at buying these cryptos.
Kadena Daily Chart Analysis – MAs Keeping KDA Down
Kadena coin had an amazing rally from late July until November, when it surged from around $0.30 to $28.50, gaining nearly 100 times in value. Since then though, KDA/USD has been on a bearish trend, following the negative sentiment in the crypto market. KDA fell to $4.60 last month, but the real support comes at around $5. Earlier this month we saw a reversal higher, which sent the price above $10, but the 100 daily SMA (green) turned into resistance.
This week, the 50 SMA (yellow) provided resistance again, so the price has turned lower now, although I am hoping to see KDA slide to $5 again, where I would be very tempted to buy. This Layer-1 blockchain has attracted a lot of interest, since it is very scalable due to its braided chains technology, and it can process up to 480K transactions per second (TPS). Kadena is expanding as well, introducing the Wrapped Kadena (WKDA), and they have also announced a  new initiative called Kadena Eco, with the long-term goal of turbocharging the project's unlimited use cases and reaching mainstream adoption. So, Kadena has a bright future ahead of it, and we are looking to buy KDA at $5, after considering the market sentiment at the time.
Kadena Daily Chart Analysis – MAs Keeping KDA Down
LTC continues to trade in the bearish zone
Litecoin has seen a revival in interest, after launching the LTC Visa debit card late last year. It is also launching the MimbleWimble upgrade, which aims to increase security and make Liecoin more scalable. This should increase its appeal to the public, although the price has been falling, and the market cap has declined since its recent peak at $19.2 billion on Nov. 13, to $8.7 billion in late January.
Since then, the price action has shown some positive momentum, with LTC/USD increasing to $144, where it found resistance at the previous support zone, which stretches from $140 to $145. Now the price has reversed down again, and we are waiting to see if LTC/USD will reach the support zone above $100, where we would buy some more LTC after buying at $123 earlier.