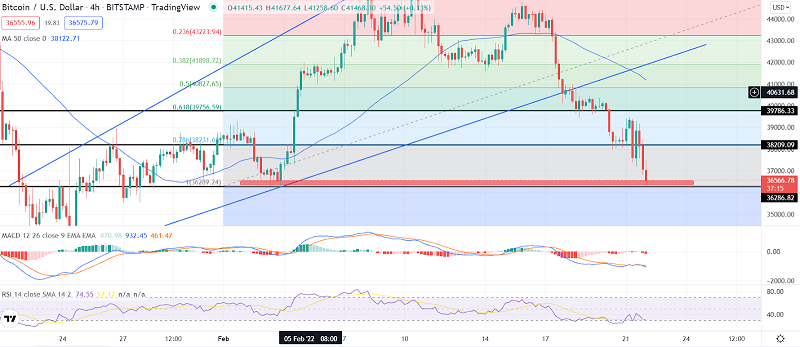 Bitcoin Slips to $37,000: Everything You Should Know
BTC/USD ended the day at $37,054.0, having reached a high of $39,531.0 and a low of $36,829.0. BTC/USD extended its loss on Monday, falling to its lowest level since February 3. The prominent show Shark Tank's star, Kevin O'Leary, has recently shared his predictions for Bitcoin. He believes that the leading cryptocurrency will reach as high as $300,000. He stressed the importance of institutional money coming into the market to drive the price up. He said that due to the U.S. regulations set by the SEC, institutional investors were still unable to purchase BTC directly, which prompted them to invest in other products like ETFs.
He continued that when the institutions are finally able to make a direct purchase of BTC, it will be a catalyst that will drive its price up. He further explained that this would push Bitcoin prices dramatically, such that they would reach $100K, $200K, and $300K eventually. His prediction was somewhat similar to that of the CEO of Ark Investment, Cathie Wood, who said that BTC would rise as high as $500,000 in the next five years. However, there was a condition associated with the prediction that institutional investors would put about 5% of their holdings in Bitcoin.
While there are people who are extremely bullish about Bitcoin, some people are also giving bearish predictions about the coin. The Chief Equity Strategist and Managing Director at Stifel, Barry Bannister, has recently predicted that by 2023, BTC could lead to a plunge in price to $10.000. According to Bannister, the tightening of Federal Reserve policy and reducing of its balance sheet will eventually have a negative impact on Bitcoin. This prediction from Bannister added some negative pressure on BTC/USD on Monday.
Meanwhile, a Mexican billionaire and founder of the Mexican conglomerate Groupo Salinas and the third richest person in Mexico, Ricardo Salinas Pleigo, has urged his followers on social media to buy Bitcoin and HODL it. He suggested buying when the prices are low and said that they would thank him later. The cryptocurrency has been falling along with the prices of other risky assets amid inflation fears and as investors fear a Russian invasion of Ukraine might lead to a large-scale conflict.
Furthermore, recently, US Senators including Jim Risch, Bob Menedez, and Bill Cassidy have proposed a new law that will limit the Bitcoin dealings of El Salvador, as they were getting in the way of U.S. interests. In response to this, the President of El Salvador, Nayib Bukele, has advised U.S. politicians to keep their big noses out of his country's business. As a reply to them, Bukele posted an image on Twitter with the flag of El Salvador accompanied by the words "Land of the Free." He further advised them to not interfere in his country's internal affairs. He added, "Do not try to control something you cannot control."
Daily Technical Levels
Support Resistance
36078.4 38780.4
35102.7 40506.7
33376.4 41482.4
Pivot Point: 37804.7
BTC/USD Technical Outlook
Bitcoin has formed a low near $36,782, and it is now consolidating losses. On the upside, an initial resistance level is located near $37,420. It is close to the 23.6 percent Fib retracement level of the recent decline from the swing high of $39,490 to the low of $36,782.
The next significant resistance is located near the $38,200 level. The 50% Fib retracement level of the recent decline from the $39,490 swing high to the $36,782 low is also near the $38,200 level. More importantly, on the hourly chart of the BTC/USD pair, a major bearish trend line is forming with resistance near $38,850.
The next significant support is seen near $36,500. If the price breaks below the $36,500 support zone, it may gain bearish momentum for a move to $35,000.