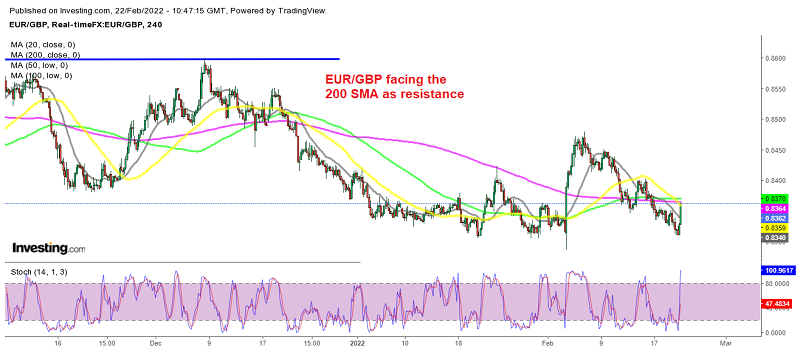 The End of Covid Turns Euro Higher
The Euro started to turn bearish last summer, as the USD started to gain strength, as the FED started to turn hawkish on surging inflation. Inflation has picked up in Europe as well but it's way behind the US and the European Central Bank ECB is behind the FED in tightening the policy. The ECB is behind the Bank of England as well, after the BOE already increased interest rates twice in the last two meetings.
As a result, EUR/GBP has been bearish as well, alth0ugh we are seeing a jump today after the German Ifo business climate increased again this month as the coronavirus wears out and the country comes back to normal. Although, we're still keeping the bearish bias for this pair, since the UK has removed restrictions as well and the BOE has already hiking rates, while the ECB is still thinking about it. Below is the German ifo business climate report.
Latest data released by Destatis – 22 February 2022
Germany February Ifo business climate index 98.9 points vs 96.5 expected
January Ifo index was 95.7 points; revised to 96.0
Expectations 99.2 points
Prior expectations were 95.2 points; revised to 95.8
Current conditions 98.6 points
Prior conditions were 96.1 points; revised to 96.2
That's a solid beat on estimates as German business morale picks up with the outlook also showing many signs of improvement. Ifo notes that the current results are not influenced by the situation in Ukraine though, and I'd argue it should not be for the most part. If anything else, this continues to underscore the short-lived impact of the omicron variant on the economy.
Remarks by Ifo economist, Klaus Wohlrabe
German economy expecting an end to COVID-19 crisis
Ukraine situation however remains a risk factor
Rising energy prices as a result of Ukraine crisis will be a drag on businesses
Mood in retail, manufacturing sectors have improved significantly
But supply bottlenecks continue to be a problem
That pretty much sums up the situation in Europe right now. The omicron impact is one that is short-lived and unlikely to cause another major drag on the economy but inflation and surging price pressures might. That could either come from further escalation in Russia-Ukraine tensions or persistent supply-side issues – or worse, both.
We have turned bearish in EUR/USD as the bullish pressure fading and the price heading for 1.07 now
13 hours ago