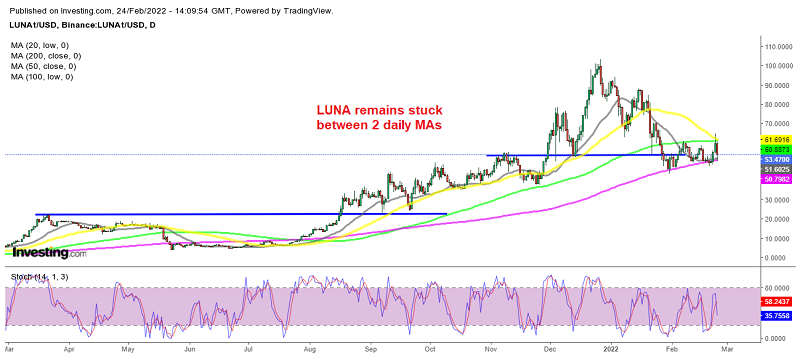 Decisive Time for Terra LUNA, Avalanche (AVAX), As the Crypto Market Turns Lower
The cryptocurrency market is behaving increasingly like a normal risk market,  similar to the stock market, rallying when the sentiment is positive and declining when the sentiment turns negative. The risk sentiment turned sour in the last two days due to Russia advancing in Ukraine, so the crypto market has turned lower, with Bitcoin falling to $34,400. Terra LUNA and Avalanche crypto have also reversed lower, but they are facing support indicators, so let's see if they will make a breakout or reverse higher.
Terra Daily Chart Analysis – The 200 SMA Holds As Support for LUNA Coin
Terra Luna continues to remain the second DeFi blockchain by the amount of TVL after Ethereum, despite the drawdown last month due to the Wonderland controversy. The demand for the LUNA coin remains high even during these bearish times and the announcement of a major sports partnership between the blockchain and pro baseball team Washington Nationals will make this crypto more visible to the US public. Tera LUNA will sponsor the team, which will give Terra prominent in-stadium signage visibility.
Yesterday Terra also announced that it had raised $1 billion in LUNA coin sales, to buy Bitcoin in order to will be used to ensure Terra's stablecoin UST stability. We saw a pop in the last two days from $50 to $64, pushing above the 100 SMA, but it couldn't close above it. So the price has returned below it, but the 200 SMA (purple) continues to remain as support at the bottom. LUNA/USD continues to remain within a range now between these two moving averages, but it is looking stronger than most of the other cryptocurrencies, which have turned quite bearish.
Avalanche Daily Chart Analysis – AVAX Has Pushed Below the 200 SMA
Avalanche stands in fourth place regarding DeFi TVL, passing the $10 billion level recently, which gave this crypto a boost. Trader Joe, which is the second largest DeFi protocol on Avalanche network by TVL has increased the activity dramatically recently, bringing more attention and DApps to the Avalanche network.
Although, the negative sentiment in the crypto market has been weighing in AVAX/USD recently. This cryptocurrency started to make a nice reversal in January after the decline, bouncing off the 200 daily SMA (purple), but it has reversed lower this month and it has pushed below the 200 SMA today. The day is not over but if the price stays below the 200 SMA, then AVAX should be heading for the next support at around $58.