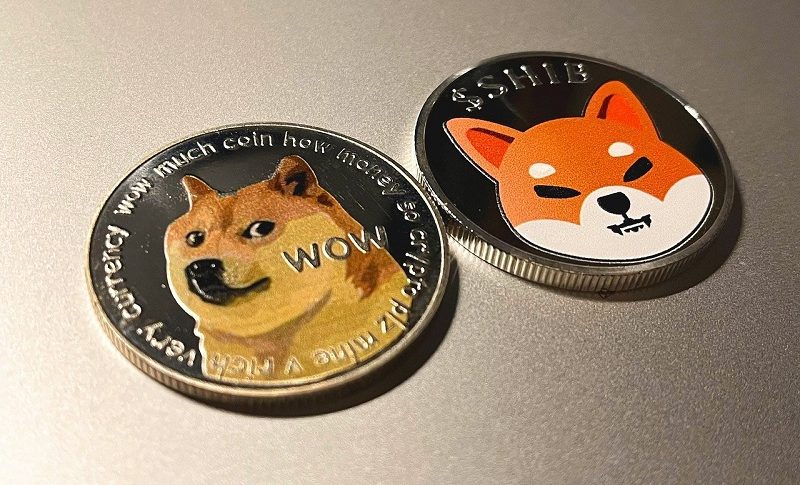 Shiba INU (SHIB), Dogecoin (DOGE) Subdued by MAs, as Meme Coins Remain Bearish
Meme coins, which are crypto tokens that are often originally created as memes, have become very popular in recent years, when they were are trending in terms of internet searches. But they have failed to capture much interest in the last few months, therefore, they have been on a constant downtrend. The Shiba Inu token has shown some signs of life, but it remains bearish nonetheless, as moving averages keep it down, while Dogecoin hasn't shown many signs of life since May last year.
Shiba Daily Chart – SHIB Resumes Decline as Transactions Decline
The 50 SMA has turned into resistance now
Shiba Inu made quite a surge in October last year, implying that the rally had begun, but it didn't hold onto its gains at $0.000088, and the decline has been constant since then, apart from a few attempts by buyers, which have ended at moving averages. The last reversal, which was spurred by a large whale, after he was spotted buying SHIB coins, ended at the 100 daily SMA (green). The price has fallen to $0.000020s, with transactions declining by 50% in the last two months as well.
However, Shiba is now building its own blockchain, which will be a Layer 2 network, which is expected to lower fees and increase the speed (TPS), but this still remains to be seen. Shiba's development team is now working on more products for the network, such as Shiberse, which should increase the interest in the SHIB coin. But for now, MAs are acting as resistance above, so there is no sign of reversal.
Shiba Daily Chart – SHIB Resumes Decline as Transactions Dwindle
DOGE remaining below all MAs since September last year 
Earlier this month, we saw some signals from McDonald's, indicating that the fast-food giant might start accepting Dogecoin, after Elon Musk campaigned for it. Burger King also responded to a tweet from Musk with "Only a king knows what da coin do". That got some attention in the Doge community, but DOGE/USD didn't react much to it.
The fact that Robinhood has increased its holdings to 32% of all Dogecoins in circulation, on behalf of its investors, didn't do much for the Doge price either. So, the sentiment remains bearish for this cryptocurrency, and it is showing no signs of reversal whatsoever. But, that is usually the case with meme coins – they remain very quiet, then, all of a sudden, they surge unexpectedly.