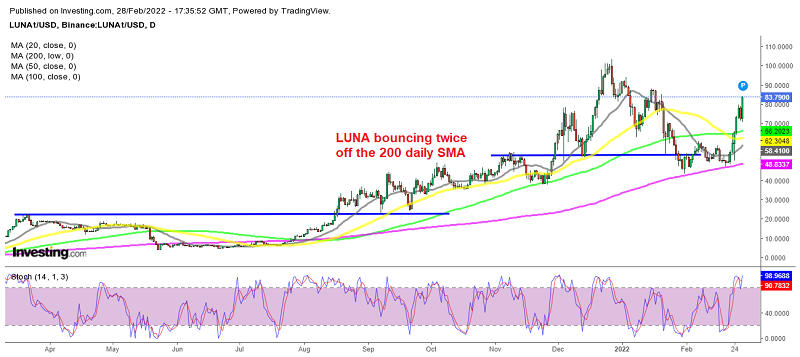 Terra Luna, Avalanche Crypto (AVAX) Heading up, After Bouncing off the 200 Daily SMA
Among the cryptos, Terra LUNA and Avalanche have been showing resilience during these bearish times in the market, as the global crackdown on crytocurrencies, coupled with geopolitical tensions, are keeping the sentiment negative in financial markets. Luna and AVAX have been holding up much better than most of the crypto market. They have been finding solid support at the 200 daily SMA and seem to be heading up now, particularly LUNA which is heading for the highs.
Terra LUNA to Make New ATH Soon?
LUNA/USD kept rallying until the end of December, even as the market was retreating, but it suffered a 60% pullback during January. However, the 200 SMA (purple) held as support at the end of last month, rejecting the price, and it did the same again about a week ago, before the surge started. Apart from yesterday, Terra LUNA has had six bullish days in the past week, as it heads for $100, while the all-time high from December comes at around $103.
With a TVL of $22 billion, Terra holds second place in the DeFi world, while it has raised $1 billion to buy BTC, which will be used to keep the UST stablecoin stable. TerraUST (UST) might be accepted as payment in the Nationals Park stadium by next season, after the $40 billion title sponsorship agreement between Terra and MLB Washington Nationals.
Avalanche Trading Between Two Moving Averages
Avalanche continued higher during November, as the market was retreating, but in December the bearish sentiment caught up with it, sending AVAX/USD down to $54, from $146. During the decline, moving averages took turns in providing support, but only the 200 SMA (purple) managed to hold the decline and reverse the price higher.
The 200 SMA is not letting AVAX slip lower 
On the other hand, the 100 SMA (green) has turned into resistance at the top, so this cryptocurrency remains stuck between these two moving averages. The 200 SMA is still holding on tightly, so the price is heading towards the 100 SMA again now, although it remains to be seen if buyers can push above it this time.
The liquidity platform, Rocket Joe, has helped bring new projects into staking pools on the Avalanche blockchain, which is driving on-chain activity higher. This has been helping AVAX, which has a TVL of $10.88 billion. Besides that, multi-chain DeFi wallet, Pillar Wallet, added support for Avalanche earlier this month, which supports EVM-compatible chains. So, AVAX is waiting for the market sentiment to improve, in order to resume the bullish trend again.