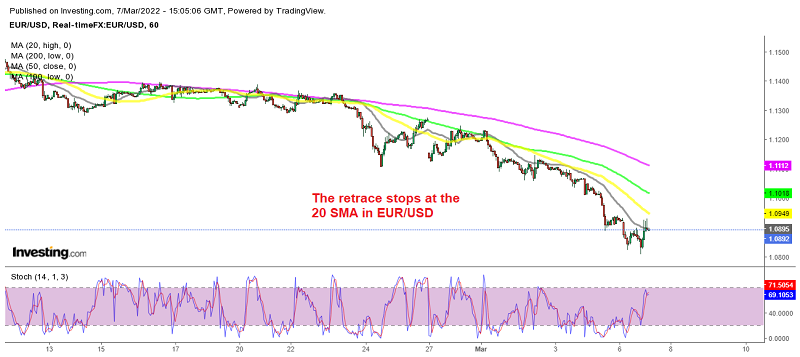 Selling the Retrace in Euro Pairs, As the European Stock Markets Continue the Crash
Markets continue to remain nervous, with the conflict in Ukraine continuing to keep the sentiment negative, particularly in Europe. Earlier today we saw the investor sentiment take a dive in the Eurozone this month, crashing from 16.6 points in February to -7 points in March. Crude oil was already bullish before the tensions started, but it has picked up pace in the last few weeks and today both us WTI and Brent crude opened with a bullish gap higher of more than $10.
German Index Dax30 Daily Chart
The swan dive is picking further pace 
European stock markets opened with a bearish gap lower, with the German index DAX30 opening at around 12,500 points from $13,200 where it closed last Friday. Stock markets have recuperated somewhat but still remain down on the day. Now coronavirus seems to be history and the geopolitical tensions are driving financial markets.
The Eurozone is the closest economic area to the conflict, so it will be affected the most, especially the energy sector, as the prices keep increasing. Russia is a major exporter of oil and natural gas, most of which goes to the EU, so the Euro is feeling the pressure as well.
EUR/GBP H1 Chart – MAs Providing Resistance
The retrace seems complete on the H1 chart
The chart at the top of this post, shows that the decline in EUR/USD has accelerated and today that pair fell to 1.0810. EUR/GBP has also turned bearish, with the UK economy being somewhat more protected from Russian energy and now that the UK is leaving the EU with Brexit, there's a whole continent between the UK and Russia/Ukraine. So, the GBP has been holding better than the Euro and we decided to sell the retrace higher in this pair.
Crude Oil is stuck between 2 MAs for a week, as recession fears and supply shortages keep weighing each-other
1 day ago