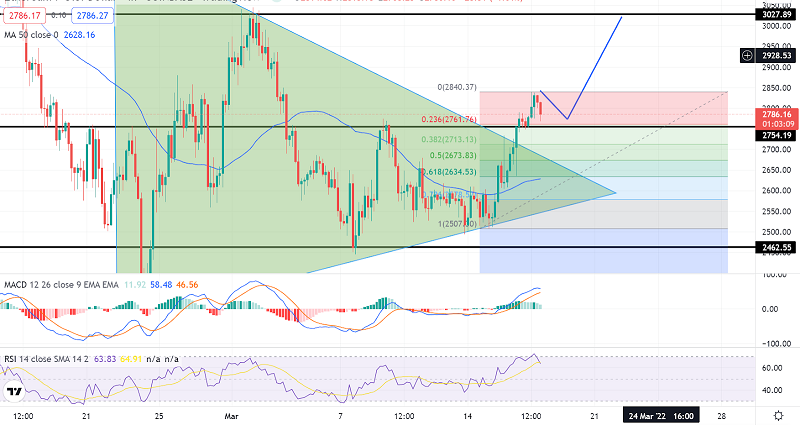 Ethereum Violates Symmetrical Triangle – Why $2700 is Crucial for Bulls
Following the Fed's announcement yesterday, Ethereum has risen above $2,700. The highly anticipated meeting had concluded, with the Fed raising interest rates by 0.25 percent. ETHEREUM has reacted positively to the news and has recovered from the slump it had been in since the previous dip. The digital asset is now trading above $2,700, but it is still far from stable.
What the Rally Achieved
The rally in Ethereum on Wednesday was welcome, indicating that investors are becoming more bullish on cryptocurrencies after the Fed's decision. After annihilating the $2,522 resistance level, the digital asset is on its way to much higher resistance levels. Bears' resistance just below $2,800 has caused ETH to ricochet back down. Nonetheless, the recent rally has set the digital asset on a bullish path, albeit for now. Ethereum is now trading above the 20-day moving average, indicating that sentiment towards purchasing the asset at these prices is shifting in favor of the buyer.
Indicators point to significant support for the cryptocurrency forming just above the $2,600 level. However, at its current price, the next resistance level is $2,839. A simple break above $2,800 would do quick work of this, as this is the position bears must maintain. Otherwise, a drop would send the digital asset back to the $2,600 level, which bulls want to avoid in the future.
Ethereum is on a Roll
With the market in its current state, there are critical points that digital assets must cross to establish another bull run. According to crypto analyst Justin Bennett, this is above $2,800 for Ethereum. This position exposes the digital asset to $3,000, where the next test for buyers awaits. To keep the bull trend going, buyers will need to maintain or even increase momentum above this point.
Furthermore, a break above $3,000 would send Ethereum on its way to $3,600 in what the crypto analyst refers to as a "spring." At this moment, the digital asset would have completed another rally, most likely approaching $4,000.
On the flip side, there is the potential of a drop, which could keep the digital asset from rising. On the other hand, if Ethereum closes below the next resistance level, it could fall back to its next level of significant support, which has proven to be $2,500 in recent weeks.
At the time of writing, Ethereum is trading at $2,759. The zig-zaggy trend lines visible on the chart in the early hours of Friday indicate a battle between the bulls and the bears.