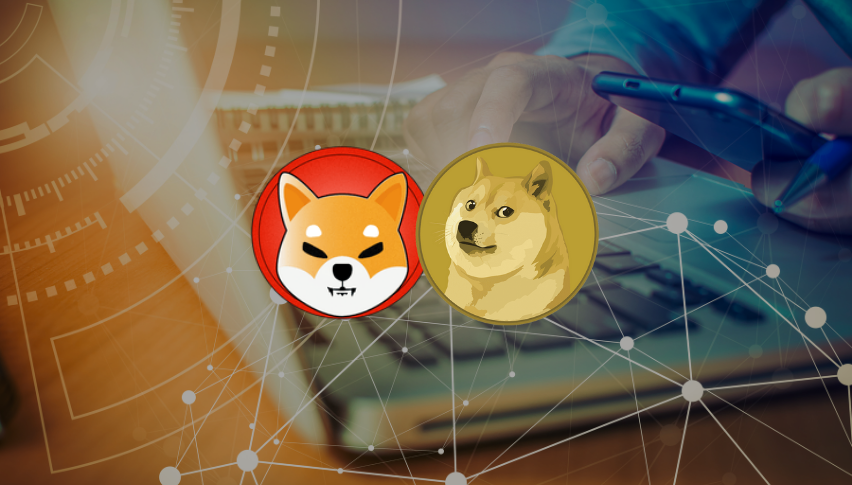 Meme Coins Dogecoin, Shiba Inu SHIB Face MAs Above as They Attempt to Turn Bullish
Meme coins had an impressive year in 2021, despite the pullback. But, they have failed to garner much interest recently, losing around 70-80% of their value, with moving averages acting as resistance and pushing the price down for the Shiba Inu token and Dogecoin. They have been attempting a bullish reversal in the last few days, but are facing these moving averages now, so let's see if they can push above the moving averages and reverse the trend.
Shiba Inu Daily Chart – Bouncing off the $0.000020 Support
The trading range is narrowing for SHIB/USD
Shiba Inu surged unexpectedly in October last year, increasing to around $0.000088, but it couldn't keep the gains, and the price has slipped down to $0.000020s, where it seems like a solid support zone has formed. Moving averages have turned into resistance for this meme coin, and the last bullish move, which was spurred by a large whale spotted buying SHIB coins, ended at the 100 daily SMA (green).
SHIB/USD headed lower, but the support zone around $0.000020 held once again, and now, this digital currency is facing the 50 daily SMA (yellow) as resistance. After the development of Shibaverse, Shiba introduced the new version of Shiba Inu's DEX, ShibaSwap 2.0, which has a feature that allows the burning of SHIB tokens, but that hasn't helped improve the sentiment much either. Let's wait and see if SHIB can push above the 50 SMA first, and then above all other moving averages.
Dogecoin Daily Chart – The 50 SMA Acting as Resistance
Dogecoin keeps making lower lows     
Dogecoin has been more bearish than Shiba Inu. It hasn't shown much life since reversing in early May last year, with both highs and lows getting lower. Moving averages have turned into resistance on the daily chart, first the larger ones such as the 200 SMA (purple), followed by the smaller ones, as the decline accelerated. Now the price is trading right below the 50 SMA at around $0.12, so let's see if DOGE/USD can push above it, although so far, the bullish momentum seems weak.
Robinhood has increased its holdings to 32% of all Dogecoins in circulation, which should have been a positive factor, but it hasn't done much to help the price. Last month, there were some rumours that McDonald's might start accepting Dogecoin, after Elon Musk campaigned for it. Burger King got some attention in the Doge community, after posting a tweet in response to Elon Musk, "Only a king knows what da coin do". But overall, there is not much life in this cryptocurrency at the moment.