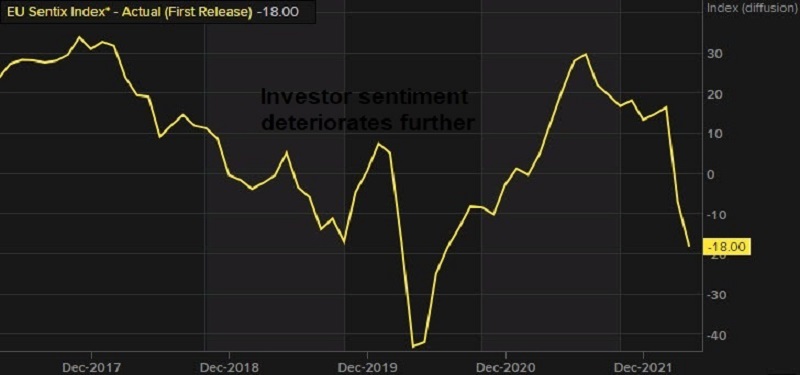 EUR/USD Resumes the Decline As Investor Confidence Remains Negative in Europe
EUR/USD turned bearish in the summer last year, as CPI (consumer price index) inflation increased above 5%, which forced the FED to consider it seriously after brushing it under the carpet. They eventually started turning hawkish and now have turned extremely hawkish, with 7 rate hikes expected this year, some of them by 50 basis points (bps).
That has helped the USD, forcing EUR/USD to accelerate the decline, especially with the conflict in Ukraine. This has hurt the sentiment in the Eurozone, since Europe is next door to the conflict and it is affected by it since Europe imports many goods from Russia. The Sentix investor confidence was improving in Europe since December as omicron proved to be quite mild, but in March this indicator dived in negative territory again.
EUR/USD Daily Chart – MAs Turn Into Resistance
Let's see if EUR/USD will push below the 20 SMA now
Eurozone April Sentix Investor Confidence
April Sentix investor confidence -18.0 points vs -9.2 expected
merch Sentix investor confidence was -7.0 points
Euro area investor morale fell to the lowest since July 2020 with the current conditions index falling from 7.8 in March to -5.5 in April, the lowest level in a year. Meanwhile, the expectations reading also fell from -20.8 in March to -29.8 in April, the lowest since December 2011.
Recession fears are the main cause as the Russia-Ukraine conflict and the sanctions related are exacerbating underlying weakness in the euro area economy. Sentix notes that: